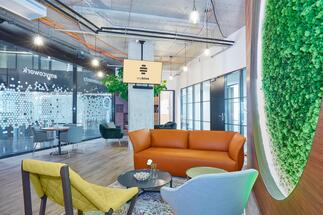 Thanks to the latest updates to the myhive concept, IMMOFINANZ offers flexible rental conditions as well as space solutions that adapt to the needs of tenants. However, the concept contains much more. The concierge service, which will organize everything from shoe repair or clothes cleaning, will remain the main benefit of the myhive concept. In addition, it offers a vibrant community that allows tenants to connect with each other. "We have a community manager for this, who will organize yoga classes, after-hours events, or childcare. These are services that are already known in connection with myhive. Adding new flexible conditions to this concept offers tenants tailor-made office services. They only pay for what they actually use," says Filip Poltoratský, Country Manager Operations at IMMOFINANZ for the Czech Republic.
The latest myhive updates come with four core products, all of which include a range of services. The myhive concept is known for community events and a hotel-type concierge service that allows tenants to focus on their business. The myoffice concept focuses on companies with 20 or more employees and provides them with their own space with a specific corporate design. The myroom concept is here for small companies that want their own office, but a top standard myhive design will suffice. For more flexible start-ups and freelancers, the mydesk concept is used, which allows clients to rent their own and fixed table in the spacious coworking space of the myhive Palmovka building. Last but not least, the new offer comes with the myflex concept, within which tenants can choose anything they want to use in a coworking space on a given day. "Thanks to this wide range, we believe that myhive is a space where start-ups can meet with corporations and connect in order to achieve common interests. It also allows you to rent a desk for one day, an office for a month, or simply increase or decrease your office space according to your needs within each month."
The future of work is flexibility
As the crisis has shown, flexibility and community will be important aspects of future working styles, emphasizes Filip Poltoratský. "Tenants will combine a home office with office work and appreciate the social aspects of working in a vibrant community that enables networking and innovation. Innovation is essential for companies, but it is usually not born at home. That's why we created the concept of myhive with the idea, at home away from home. You will experience it thanks to our hotel-type design, a comprehensive range of concierge services, and community events that connect people. With our new flexible conditions, tenants of any size can now find a tailor-made office solution that adapts to their needs," he continues.
The unique atmosphere of a cowboy in the Palmovka myhive building
The layout of the space in the myhive Palmovka building combines quiet nooks for undisturbed work and pleasant places for cooperation. Working in coworking spaces brings many inspiring meetings, a whole range of creative ideas, and at the same time high productivity. As a result, it creates optimal conditions for those who are not employees - for entrepreneurs, freelancers, and other independent professionals - as well as for start-ups and dynamic international companies. "The Coworking area in the Palmovka area is characterized by a wide range of services."
The infrastructure available directly in the Palmovka myhive complex includes everything from restaurants and cafés to conference rooms to bicycle storage, showers, and garages with charging stations. A so-called community manager is also available to clients; he helps companies and individuals get to know each other, organizes social events inside the cowork and outside its space, and always tries to ensure a pleasant and creative atmosphere in a common workplace.
The Myhive Palmovka complex is characterized by very good transport accessibility by both tram and metro. There are more than 300 parking spaces for cars in the building's underground car park.
The myhive brand has been present in the Czech Republic since 2016 and offers office space for rent in two highly sought-after locations - in Pankrác and Palmovka. It was in the myhive Palmovka complex that the company implemented new flexible myhive updates. The concept of shared offices was tested by IMMOFINANZ in its home country, ie Austria, and is now implementing it in the Czech Republic and will add coworking spaces in Poland, Hungary, Romania, and Slovakia to its portfolio this year.
Press release by IMMOFINANZ Group