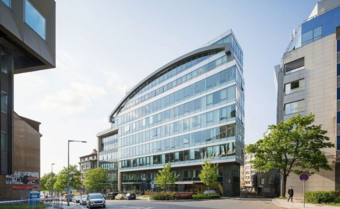 The Prague office portfolio provides space for more than 120 tenants in buildings located in the city center, in busy business districts or at the airport. The portfolio includes properties Na Příkopě 14, Jindřišská 16, Jungmannova 15, myhive Palmovka, myhive Pankrác House, Airport Business Center and BBC Gamma. Two of these properties offer the innovative myhive office concept, which focuses on meeting the requirements and expectations of tenants and their employees. The concept is characterized by four main features: a design inspired by the hotel environment, attentive and helpful staff, excellent infrastructure and an international community.
Filip Poltoratský, Country Manager Operations of IMMOFINANZ for the Czech Republic, says: "Savills successfully manages four buildings from our Prague portfolio. Their professional and innovative approach is in line with the philosophy and needs of our company. I am glad that from January 2021, our entire portfolio of office buildings will be managed by Savills. We look forward to professional building management, which will continue to lead to the satisfaction of all our tenants. "
"It is a real honor for us to become the exclusive administrator of the entire Prague office portfolio. Our cooperation with IMMOFINANZ began in August 2017, when we acquired four of their properties. At that time, these were the very first assets of the newly established real estate management department of Savills company. We are very pleased that after three years we can expand our cooperation and continue to provide comprehensive real estate management services for our client," comments Petr Machula, Head of Real Estate Management at Savills CR and SR.
Source / photo: Savills Czech & Slovak Republics