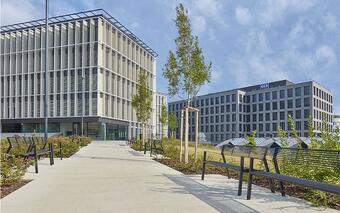 Climate change is one of the most debated issues in today's world. Fossil fuel energy production makes a significant contribution to global warming, melting glaciers, rising sea levels and the extinction of native flora and fauna. IMMOFINANZ, therefore, contributes to a more sustainable society by compensating for all its energy consumption in the Czech Republic exclusively with green electricity sources.
Long - term sustainable energy policy
All buildings under the management of IMMOFINANZ received the Energy EKO Gold certificate from Pražská energetika (PRE) for 2021, which proves that 100% of their consumption is covered by ecological electricity from renewable sources. By implementing the Energy EKO Gold certificate, IMMOFINANZ will reduce indirect polluted CO2 emissions by more than 12,000 tonnes in 2021. *
"From this year, all properties in the Czech Republic owned by IMMOFINANZ will offset their CO2 emissions by using energy from renewable sources. We are aware that as a company operating in the Czech Republic we have a responsibility for the local environment, and we want to participate in reducing the burden resulting from our environmental footprint," explains Filip Poltoratský, Country Manager Operations for the Czech Republic.
The effort to find alternative and more environmentally friendly solutions is also evidenced by the network of charging stations for electric vehicles, which IMMOFINANZ is building at its STOP SHOP shopping parks throughout the country. The so-called e-stations offer customers convenient, fast and cheap charging of their electric car within 20-30 minutes spent shopping. And it is the construction of much-needed infrastructure that is a key prerequisite for the massive expansion of electromobility, which is more environmentally friendly than the use of cars with internal combustion engines.
IMMOFINANZ and its social commitment
The international company IMMOFINANZ is also involved in the field of social development of Czech society and supports non-profit activities. As part of philanthropy, he has long assisted the Prague Institute of Clinical and Experimental Medicine (IKEM) in recruiting to the registry of hematopoietic cell donors.
"In recent years, we have provided IKEM with space for sampling in our modern building myhive Pankrác House. Before Christmas 2020, we decided to give IKEM and its medical staff Christmas presents and a financial contribution," adds Filip Poltoratský.

IMMOFINANZ - myhive Palmovka, meeting room
During 2020, IMMOFINANZ expanded its charitable activities to support three other non-profit projects. A food bank, the Kolping Asylum, focuses on helping single mothers with young children. The company also contributed in the form of a financial contribution to a transparent account in favor of the seven-year-old daughter of a nurse from the Jihlava Hospital who succumbed to covid-19.
Source: // Retrend