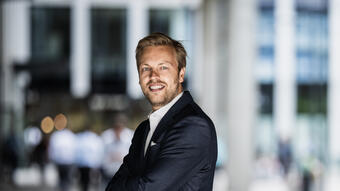 You've recently announced the launch of Masaryčka, a city regeneration project that has long been in the works. What is the timeline of the project?
We have received a building permit for the first two buildings of the project designed by Zaha Hadid at the beginning of 2021 and already commenced construction. The first two buildings comprise approximately 27,000 sqm GLA out of which 22,000 sqm will be allocated to office and the remaining 5,000 sqm will be high street retail and a mixture of food operators. We expect to open the two buildings in June 2023. It is a slightly longer construction timeline in comparison to our other office projects, however, this reflects the complexity of the construction and of the organic façade in particular. We have already started leasing the project and believe that we will be able to set a new standard for top prime offices in Prague. The first stage of Masaryčka will include not only the Zaha Hadid buildings but also a complete regeneration of the Na Florenci street and the creation of an adjacent public square. Separately, we will start construction of a new hotel building in the southern part of the Masarykovo Nádraží train station and also national railway infrastructure manager SŽ will start the reconstruction of the whole station with a new park to be created on top of the rail track connecting to our buildings.
What other projects is Penta Real Estate currently working on? Has the pandemic significantly affected the execution of your development strategy?
We have several projects under different stages of permitting or construction. When it comes to our Prague projects, we have diversified over the last years from pure office development into the residential segment. This broader focus allows us to accelerate projects where we see greater demand. Within the office segment, after completing Churchill and Smichoff projects last year, we have Masaryčka under construction and started preparatory works for the New Waltrovka project with cca. 30,000 sqm office GLA. In addition, we have several commercial projects in an earlier permitting phase, mostly in the centre of Prague. We are convinced that central locations should not be affected by COVID-19 in the long term. Rather the opposite. In a situation when some companies consider a slight reduction in their space requirement, they can offer a better location, accessibility and adjacent services to their employees at a similar cost as before.
The Czech market has long been known for its lengthy permitting process. Has COVID-19 changed this in any way?
Whilst we see that certain institutions and government bodies operate efficiently even under today's more complicated situations, others use it rather as an excuse to prolong their response times. Despite all this, we have been rather successful in obtaining several key permits for our projects. We also expect that the situation will improve with the new construction bill that is currently negotiated in the parliament.
Last year Penta Real Estate was quite active on the investment market as well, having sold four office buildings and a development project. Did pandemic-related restrictions make the closing of these deals more difficult?
We have been very active on both sides. We exited several completed projects but also secured several new development land plots. We were positively surprised by the stability of the investment market and its absorption capacity even under the pressure of the pandemic. Obviously, there were some technical complications connected to travel restrictions and the inability to meet in person. This probably made it easier for local or long-term players to be more active. Hence, in some way, it made some of the transactions relatively easier in comparison to the pre-COVID era where we have seen a lot of rather exotic capital with limited experience in the market.
Have you noticed any significant changes in pricing during the last 12 months? What are your expectations for 2021 on the CEE investment market in general?
I have not noticed any significant price movements in the office yields over the last 12 months. We have managed to achieve pre-crisis pricing on all the office assets we exited over the last year. When it comes to the residential segment, we have seen the market rather unaffected, with residential prices in Prague growing by 5-10 percent dependent on particular locations. We observe a lot of money searching for opportunities and with the lockdown hopefully soon over, I am fairly optimistic with regards to the investment market. What is more difficult to assess are the long-term implications for the underlying fundamentals, especially in the retail segment. But with a lot of pent-up demand, we will hopefully see a quick recovery.
Source:// Retrend