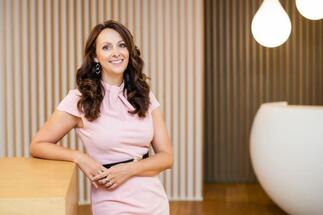 1) What commercial projects is SKANSKA currently working on in the Czech Republic?
Jana Prokopová, Leasing & Asset Director Skanska Commercial Development Czech Republic. The multifunctional project, located between Prague Holešovice and Vltava railway stations, includes the construction of 35,700 sqm of primarily office space, supplemented by space for shops, restaurants, cafes and small service outlets. A great advantage of our project is a public park with a promenade, a dock for sports boats and a water tram stop. We believe that a new Holešovice embankment will be created at Port 7, which will be a place for social, cultural and sports activities. Our other three projects Key, Mercury and Radlická are in various stages of preparation.
2) How would you assess the development of the commercial space market in the Czech Republic last year, especially against the backdrop of the Covid-19 pandemic?
Jana Prokopová, Leasing & Asset Director Skanska Commercial Development Czech Republic: In my opinion, we have all got used to Covid-19 to some extent. We know how it can affect our lives (personal and professional) and we have adapted to it. After the initial shock in 2020, when some developers stopped their projects, they came back to this decision last year. The number of new office projects starts increased threefold in 2021 compared to 2020. So there will still be a relatively low number of new spaces launched on the market this year, but this will change in 2023 and the supply will be wide again.
In the first pandemic year, a number of companies were literally frightened that they would no longer need their existing office space and offered some of it as subleases on the market. Last year, however, it became clear that offices will still be needed, but their function will change. A large number of subleases have disappeared from the market and companies have reused these meters as part of the layout adjustment. A number of companies have started to use their headquarters as a 'hub', with new quiet working zones, shared workspaces, small enclosed areas for video conferencing and various informal social spaces.
Whereas before the pandemic companies would more often move to a new building, last year they were more inclined to extend their lease in the existing building and invest in renovating their premises (modified layout, new interior fittings, more comfortable furniture).
A big challenge for the market last year was rising construction costs.
3) What changes in demand, supply and changes in client behaviour do you see comparing the pre-pandemic situation and the situation today?
Jana Prokopová, Leasing & Asset Director Skanska Commercial Development Czech Republic: In terms of demand, location and product quality are still key. If a company decides to relocate, factors such as sustainability, innovation and health come into play. Companies today are much more concerned with the internal layout of their premises so that the equipment fits the future hybrid working model. They want their headquarters to be not only presentable but also comfortable and safe. They want not only employees but also clients to feel comfortable and happy to return. The market is still active, but due to the ongoing uncertainty, many companies prefer to extend their existing contract rather than move to new offices. The time taken to negotiate new leases has increased several-fold compared to the pre-pandemic period. Demand for flexible space has skyrocketed, which is being met by flex operators such as Scott & Weber, IWG and others. As a developer, we are responding to this increased demand by reserving up to a third of the space on the project for this type of lease.
4) How has SKANSKA responded to the challenges of the Covid-19 pandemic? How are the needs of tenants changing?
Jana Prokopová, Leasing & Asset Director Skanska Commercial Development Czech Republic:
Our response was basically threefold: we started applying safety rules to all our projects under construction to prevent the spread of Covid-19, and as a result, we did not have to stop any construction. We had all of our completed commercial development projects in CEE certified to the WELL Health & Safety Rating, which was an independent assessment of the quality of our interior design. We also implemented our own Care for Life program, which includes a number of aspects of the building's operations that contribute to the safety of tenants and visitors. These include contactless movement around the building enabled by the Connected by Skanska app downloaded to a smartphone, prescribed levels of air filters in the building and frequency of replacement, sanitation plans, etc. The pandemic has clearly highlighted the issue of health and safety in the working environment.
5) What sets you apart from your competitors? What are the company's strongest values and services?
Jana Prokopová, Leasing & Asset Director Skanska Commercial Development Czech Republic:
We are an established development company that has been building sustainable commercial real estate for a long time. Our projects are well established in the market as well built, environmentally friendly, supporting the health and well-being of the people who work in them. With each project, we try to make the surroundings of the building more pleasant, usually in the form of greenery or park landscaping, but for example, at Visionary we have also built a kindergarten and a publicly accessible multifunctional playground. We see the development in the context of the locality, we want to contribute to its development and we rely on social consensus.
Climate change is also a big issue for us. We are very active in this area and want to become leaders in the green transformation. Our goal is to build with a low carbon footprint and achieve climate neutrality by 2045. We have already reduced our carbon emissions by 47% compared to 2015.
6) What are SKANSKA's development plans in 2022 in terms of commercial buildings?
Jana Prokopová, Leasing & Asset Director Skanska Commercial Development Czech Republic:
We are fully focused on Port7, which is our largest project to date. The project is our biggest project to date, and we expect to have the rough construction completed by the middle of this year and the project to be finished in Q2 2023. We are continuing commercial negotiations with its leases. The preparation of our other projects Key (Prague 4), Mercury (Prague 7) and Radlicka (Prague 5) is progressing in parallel.