Part 2 of the interview - you can find the first part here
How does your office interior design differ from other companies that design office interiors on the Czech market?
Erika Bohatá: We solve orders comprehensively: from the strategy of the working environment, through the space plan, interior design, project documentation for obtaining a building permit and construction, wiring, interior equipment, acoustics to the final handover of the interior and service in the coming years. We have internal teams for all these specializations, so the client does not have to deal with subcontracting and responsibilities. This is unique on the Czech market.
An example of such cooperation can be, for example, work for the mentioned T-Mobile. For the project of office transformation, the operator made full use of the design & build model, where the design, implementation and delivery of a commercial turnkey interior falls under one partner, and with this service, I dare say, we also differ. Specifically at the T-Mobile headquarters, the implementation time was reduced by about half compared to the usual way, when there is no single general contractor for the client and individual professions and tasks are coordinated across several companies.
We differ with an emphasis on understanding the client's needs and designing a functional, not just pleasing interior.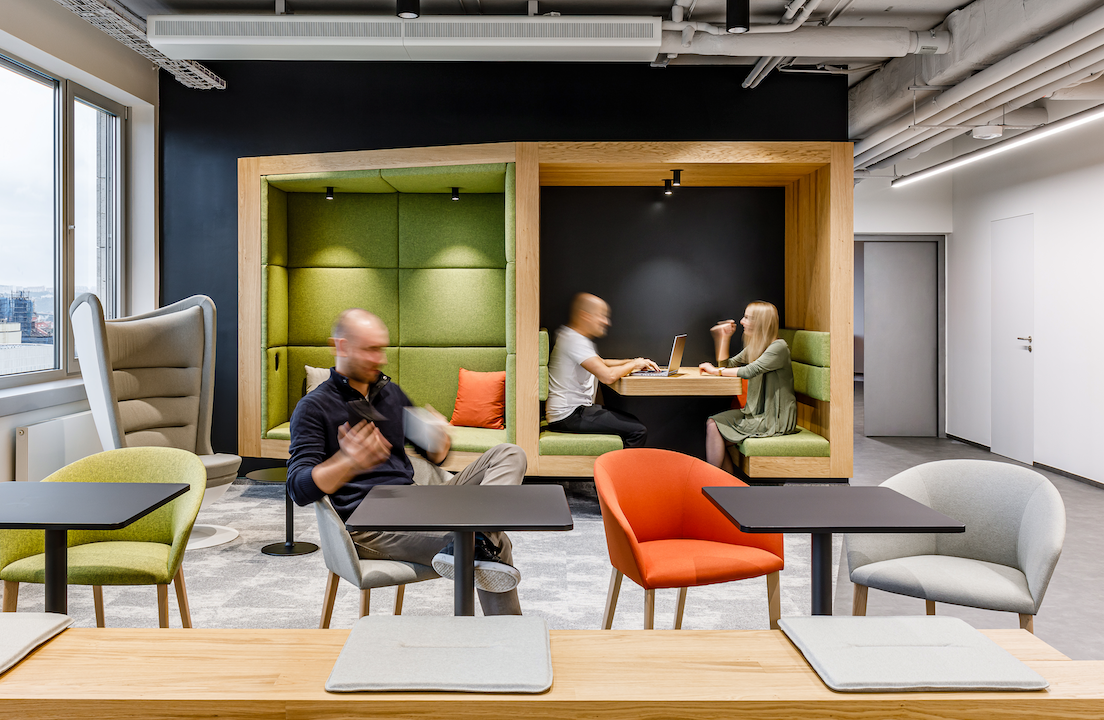 Author: Petr Andrlík
Why is workspace diversity so important?
Apolena Weiss: In the past, diversity was relatively low - a permanent workplace at a table or a meeting room. But did it suit everyone and every type of activity? If you asked employees, you would get a negative answer. We used to have to explain a lot to clients about the need for a needs analysis and the diversity of spaces, now that employers want to transform their work environment to attract, they better understand the importance of both.
We design offices as an ecosystem with different zones and we no longer focus on making everyone have their place. Our task, and also the task of employers, is to find out exactly what people need and want. How which teams and individuals work, how often do they need to meet in person or virtually. To give a specific example: for the IT company productboard, we processed analysis of the work environment, and thanks to it, the client realized that people do not like open space with a few meetings and that people need to meet more. Their offices have adapted accordingly.
They have changed from an open space, where everyone has their place, to a very flexible space with telephone booths, training places, rooms for couple programming, but also a recording studio, a yoga room and a climbing wall. The employer would not have found this without a needs analysis. The flexible layout thus allows employees to move freely within the office and supports the corporate culture. This is more important today than before.
Author: Alexandr Dobrovodský
Do you think that the quality of office space in the Czech Republic is increasing?
Certainly yes, we see it ourselves in the extent of the demand we hear from tenants. It is an exaggeration to say that 10 years ago we started with the adjustment of partitions and today we are solving the mentioned transformation projects that follow changes in corporate culture.
There is clearly a greater emphasis on a healthy indoor environment, education and opportunities have clearly expanded over the years we have been operating on the market. Thanks to advanced technologies, we can, for example, solve smart lighting according to circadian rhythms, design spaces in BIM, workplaces can be connected to sensors that reveal air quality in the meeting room, occupancy of individual workstations, and solve automatic dimming and air conditioning. The standard is the mentioned height-adjustable tables and space solutions from the point of view of the right acoustics, both of which were only discussed a few years ago.
Work in an office or home office? What way of working do you prefer and why? What do you think about homeoffice?
Erika Bohatá: Both. The benefits of a home office are lost if you work from home every day. Employees lack contact with colleagues, the possibility of sharing know-how, but also a change in the environment. Offices are now more than ever a meeting place and a holder of corporate culture. The hybrid model - where we use offices mainly for meetings and creative activities requiring cooperation, and work from home or place for ordinary administration, for example - looks like an ideal scenario for most. However, we noticed this trend even before the pandemic, covid only accelerated what would happen in many years.
The home office works great in a hybrid way of working. But a permanent home office is not sustainable. Offices will certainly not disappear, but their purpose will change. There will be more space in the market for co-workers, who will also be more sought after.
Erika Bohatá, Apolena Weissová, Martin Židek answered.
Erika and Martin are our architects with the title of Ing. arch from Prague CTU, Faculty of Civil Engineering, program Architecture and Civil Engineering. Erika Bohatá is behind the concept and design proposal for the companies: T-Mobile (Prague and Mladá Boleslav), Hello bank! by Cetelem, Sportisimo or Dáme Jíd and has been with CAPEXUS for 6 years. Martin Židek, who has been with CAPEX for 4 years, has also been creating a design concept for T-Mobile, as well as for MSC and Vodafone, for example.
Apolena Weiss has been a CAPEXUS Workplace Consultant since 2019. In the past, she has been involved in workplace strategy for companies such as Productboard, T-Mobile, Johnson & Johnson or KPMG. She is a graduate of Buildings and Environment at the Faculty of Civil Engineering of the Czech Technical University in Prague.
About CAPEXUS
More than 100 experts at CAPEXUS specialize in architecture, implementation, project management and consulting in the field of the working environment. Over the course of 10 years, they have transformed the work environment for more than 400 companies. CAPEXUS will listen to your needs, design interior modifications and ensure a smooth implementation process. Your new offices will arrange from A to Z.