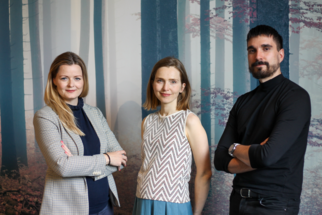 What projects is CAPEXUS currently working on? Has the pandemic significantly affected your development strategy?
Martin Židek: We work with several large companies on transformation projects, which change not only the workplace but the overall culture.
Avast has decided to transform its working background in the name of cooperation, corporate culture and community. Avast offers two types of contracts - two to three days from the office or work from anywhere to an unlimited extent - so we had to adapt the offices so that employees do not spend five days a week in them. Within the space, we designed enough quiet zones for concentrated work, and, among other things, implemented the so-called mini studios designed to work outside the classic workstation, if you want to change the environment. These mini studios also serve informal meetings, workshops or brainstorming meetings. The company acquires a clearly dedicated space for collaboration and creative meetings, classic work at a table, a meeting area with a self-service café and spaces for relaxation and concentration. The new offices thus support flexibility, variability, wellbeing and meeting opportunities.
Flexibility, digitization and sustainability as the main trends on the rise are also reflected in the new hub, which encourages flexibility and cooperation and which we design and implement for Vodafone. The company expects that 60% of the time employees will work remotely and spend the rest of their time mainly working in the office. At 2,500 meters of this hub, only 15% is dedicated to traditional jobs, so-called co-creation stations for meetings and brainstorming activities are available to employees.
Most of the space is dedicated to meeting, people from all over the building can also use special quiet zones designed for regeneration and opportunities to collect ideas such as a library, zen garden, study room and the like. In addition, the concept can be extended to other countries - the Prague headquarters was chosen as a pilot project.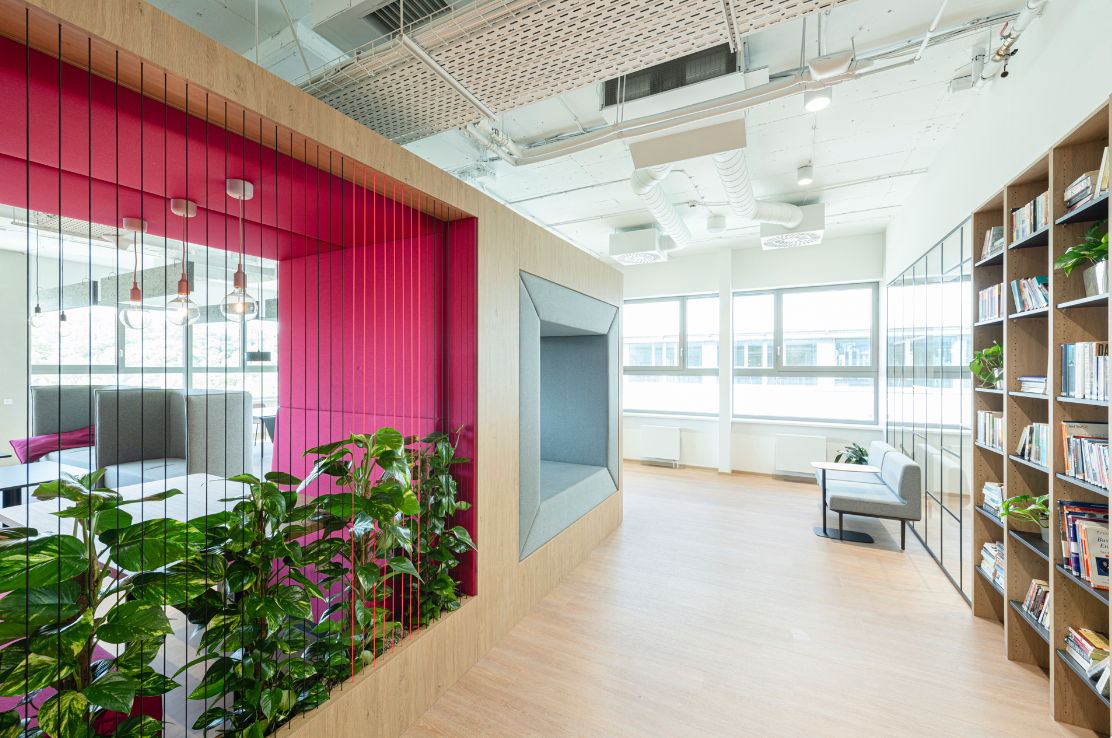 Autor Alexander Dobrovodský
Erika Bohatá: For T-Mobile, we are gradually reconstructing the headquarters offices on almost 20,000 square meters. At the same time, the reconstruction brought the largest Czech operator, in addition to the fresh design, a complete change in the character of the workplace - from closed smaller rooms, employees moved to an open space with a zoning system. Now employees work in a flexible space that adapts to the activities performed. The entire design concept and zoning concept were also reflected in other T-Mobile locations - for example in Mladá Boleslav.
The projects are united by the belief that employees will spend most of their office work with collaboration and creative teamwork, which is better done in face-to-face meetings. Offices are also becoming a place where people get to know each other well, and it will be even better for them to work together remotely.
What surprised you in 2020?
Erika Bohatá: How quickly companies have adapted to the new situation. All companies had to face this and necessarily support the home office, which we certainly do not perceive as a change for the worse. Even working from home, if it takes place 5 days a week, has its disadvantages and the reality of most of us is becoming a hybrid way of working - as employees we most value the choice of where we want to work from, whether from home, cafe, from nature, from a co-working center or just the office of the company.
Martin Židek: The approach to space has changed radically. Over time, companies realized that full-time employees would not return to their offices and began to think about managing the premises - COVID was a kind of catalyst for change, which had been slow before. Due to the pandemic, employers began to perceive positively the concept of a flexible workplace, which was previously unimaginable for many. Businesses will no longer need a permanent job for all their employees, and a well-adjusted share of sharing can save companies significant rental costs.
But it is not the case that the space they will save due to the missing tables can be subleased. Flexible offices do not mean that no one has their desk, and that is the end of it. Employees must have not only lockers and storage spaces, but also enough well-equipped meeting rooms, places for telephoning, brainstorming and meetings, as the examples of Avast, T-Mobile and Vodafone show. These activities are the main reason for returning to the offices after more than a year of work at home.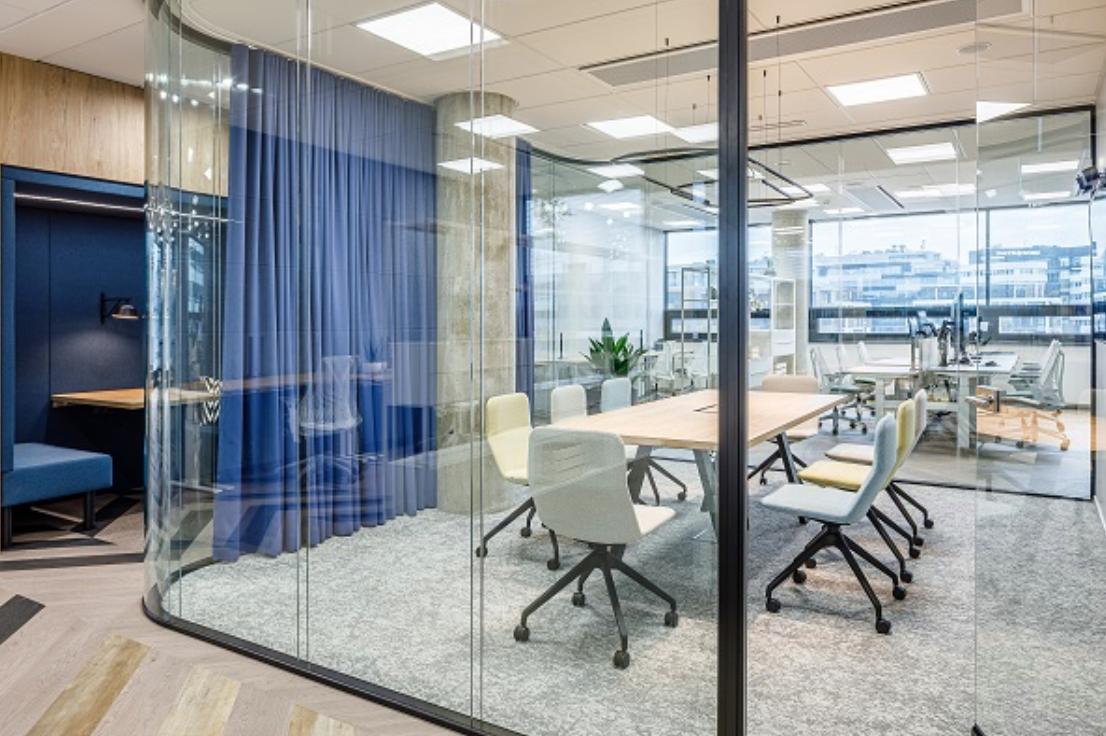 Author Petr Anderlík
What are the trends in workplace interiors?
Erika Bohatá: The already mentioned flexibility and the associated hybrid way of working and at the same time the importance of the office as a certain anchor. Flexibility - where employees can choose where to work from within the office - is one of the most important aspects of a modern functional workplace, and this trend will strengthen along with sustainability. The hybrid way of working is related to the digitization and adaptation of meeting rooms to video calls - those who sit in the office and employees connected remotely must have the same experience from the meeting.
More and more important and in demand by employees is wellbeing and a healthy working environment with ergonomic furniture, with a height-adjustable table, proper air exchange and so on.
Have you noticed any significant changes in clients' office interior design requirements in the last 12 months in response to the Covid-19 pandemic?
Apolena Weissová: We have noticed a greater demand for complex workspace solutions, as the purpose of the office has fundamentally deviated from the function of individual work at a desk. The premises need to be more adapted to what people really need at the company's headquarters. New zones for cooperation, mutual meetings, equipment for hybrid cooperation, spaces for creative work, but also quiet zones for deep concentrated work.
Every company, and every department or team within the company is different and for a quality design it is necessary to know the company in detail. The workplace consultancy service is used for this, without which a really high-quality interior design cannot be ensured.
We often start with a company-wide inspirational presentation of new trends and opportunities in the company's workspaces, during which we also clarify all questions and possible concerns about the new work concept. This is followed by workshops with employees, during which we try to get to know work routines, space needs, team spirit, culture, atmosphere in the department, but also whether the location suits them. We also ask whether they would be interested in the premises, for example, a room for rest or stretching or a closed office with a children's corner, which we implemented, for example, for UniCredit Bank.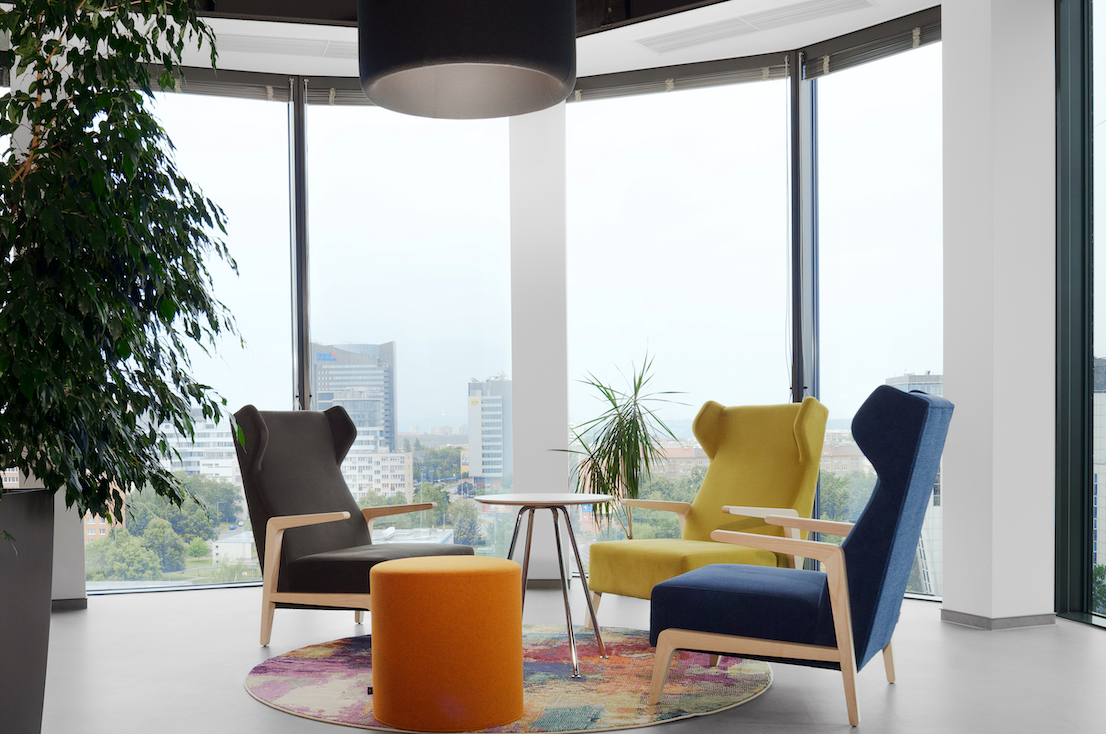 Author Jiří Alexander Bendář
An integral part of the cognitive phase are strategic interviews with company management, where we are interested in where the company wants to go, which departments will grow, which departments should be more interconnected.
Based on this, we determine the ideal zoning and classification into "neighborhoods" according to the so-called workplace person. As a result, teams that interfere with each other will not be present. The result of the analysis is not only the number of meters that the company needs, but above all a very specific basis for the design of the workplace.
To be continued...
Erika Bohatá, Apolena Weissová, Martin Židek answered.
Erika and Martin are our architects with the title of Ing. arch from Prague CTU, Faculty of Civil Engineering, program Architecture and Civil Engineering. Erika Bohatá is behind the concept and design proposal for the companies: T-Mobile (Prague and Mladá Boleslav), Hello bank! by Cetelem, Sportisimo or Dáme Jíd and has been with CAPEXUS for 6 years. Martin Židek, who has been with CAPEX for 4 years, has also been creating a design concept for T-Mobile, as well as for MSC and Vodafone, for example.
Apolena Weiss has been a CAPEXUS Workplace Consultant since 2019. In the past, she has been involved in workplace strategy for companies such as Productboard, T-Mobile, Johnson & Johnson or KPMG. She is a graduate of Buildings and Environment at the Faculty of Civil Engineering of the Czech Technical University in Prague.
About CAPEXUS
More than 100 experts at CAPEXUS specialize in architecture, implementation, project management and consulting in the field of the working environment. Over the course of 10 years, they have transformed the work environment for more than 400 companies. CAPEXUS will listen to your needs, design interior modifications and ensure a smooth implementation process. Your new offices will arrange from A to Z.