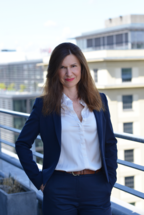 1. Could you introduce us to your company? (locations of office space, total leasable area, etc.)? What does your company do?
AFI Europe Czech Republic is a leading investor and developer in the field of commercial and residential real estate, operating in the country since 1997. Over the past quarter of a century, we have managed to complete a number of successful projects. In the office segment, there are three phases of the Classic 7 Business Park administrative complex in Holešovice, as well as the AFI Karlín and AFI Vokovice buildings. Our newest addition is the AFI City 1 tower block on the city's brownfield in Prague 9 - Vysočany. In addition, two years ago we expanded the portfolio of properties we are building by acquiring the administrative complex Avenir Business Park in Nové Butovice.
In any case, we are also active in other markets. In the past, we have realized the shopping centers Palác Flora and AFI Palác Pardubice, residential complexes with apartments owned by Korunní Dvůr, Tulipa Rokytka, Tulipa Modřanská rokle and Tulipa City, or the logistics park D8 European Park. We are currently building a wide portfolio of nearly 900 rental apartments under our own brand "AFI HOME" in projects in Prague's Karlín, Třebešín and Vysočany.
2. Let's say something a little specifically about office buildings and locations
Our portfolio currently includes five office properties with more than 100,000 m2 of rentable space. All of them are located in the territory of the capital. of the city of Prague and have passed green BREEAM or LEED certification certifying their sustainability and environmental friendliness. Our first ever realization was the Classic 7 Business Park in Prague 7 - Holešovice. It was created by the successful conversion of the former Holešovice steam mill, which was followed by a new construction. Altogether, it includes five office buildings with 34,000 m2 of leasable space, which were implemented successively in three stages. The complex was completely completed in 2016. It includes a beautiful outdoor area, which is freely accessible not only to tenants, but also to the public. There are also restaurants, cafes and shops.
The second project in line was AFI Karlín in Prague 8 at the foot of Vítkov Hill. The floor plan of two mirror-symmetrical buildings with an open atrium in the middle resembles the shape of a butterfly's wings in flight, hence its nickname "Butterfly". Among other things, it stands out with its unique green facade, which consists of more than 30,000 living plants. It is located near the Křižíkova metro station and has 22,000 m2 of rentable space. The complex also includes a public park with a dreamily reconstructed baroque chapel, pleasant seating and water features. It was completed at the end of 2017.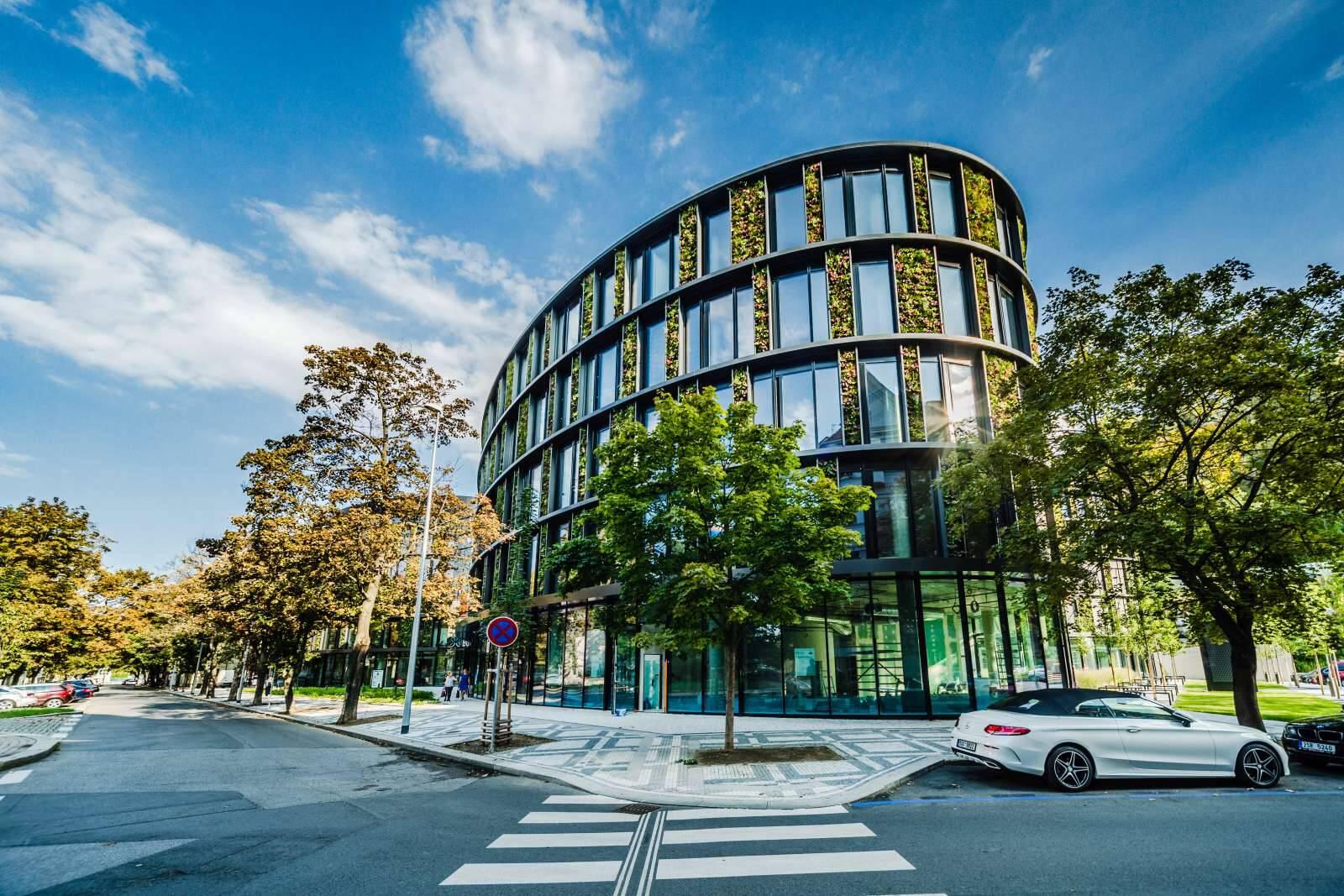 AFI Karlín, source: AFI Europe Czech Republic
Just one year later, AFI Vokovice was approved in Prague 6. The complex with a total of 16,700 m2 of rentable space is located directly at the Veleslavín transport hub near the metro, tram and bus terminal and train station. Ruzyn International Airport is just a few minutes away by car. However, in addition to excellent transport accessibility, the site is also highly visible. At first glance, both office buildings impress with their distinctive facades of an organic shape, which are smoothly connected to the public space towards Evropská třida.
So far, our latest realization is AFI City 1with 17,000 m2 of rentable space. It is an elegant office tower with a distinctive facade in the form of an atypical grid with a pearl effect. With a height of 75 meters, it has become the new dominant feature of the rapidly developing locality around the Kolbenova metro station, where we are building a new multifunctional district, AFI City, on a fifteen-hectare brownfield. This includes among other things, an already completed large park with landscaped sidewalks, a bike path and seating areas.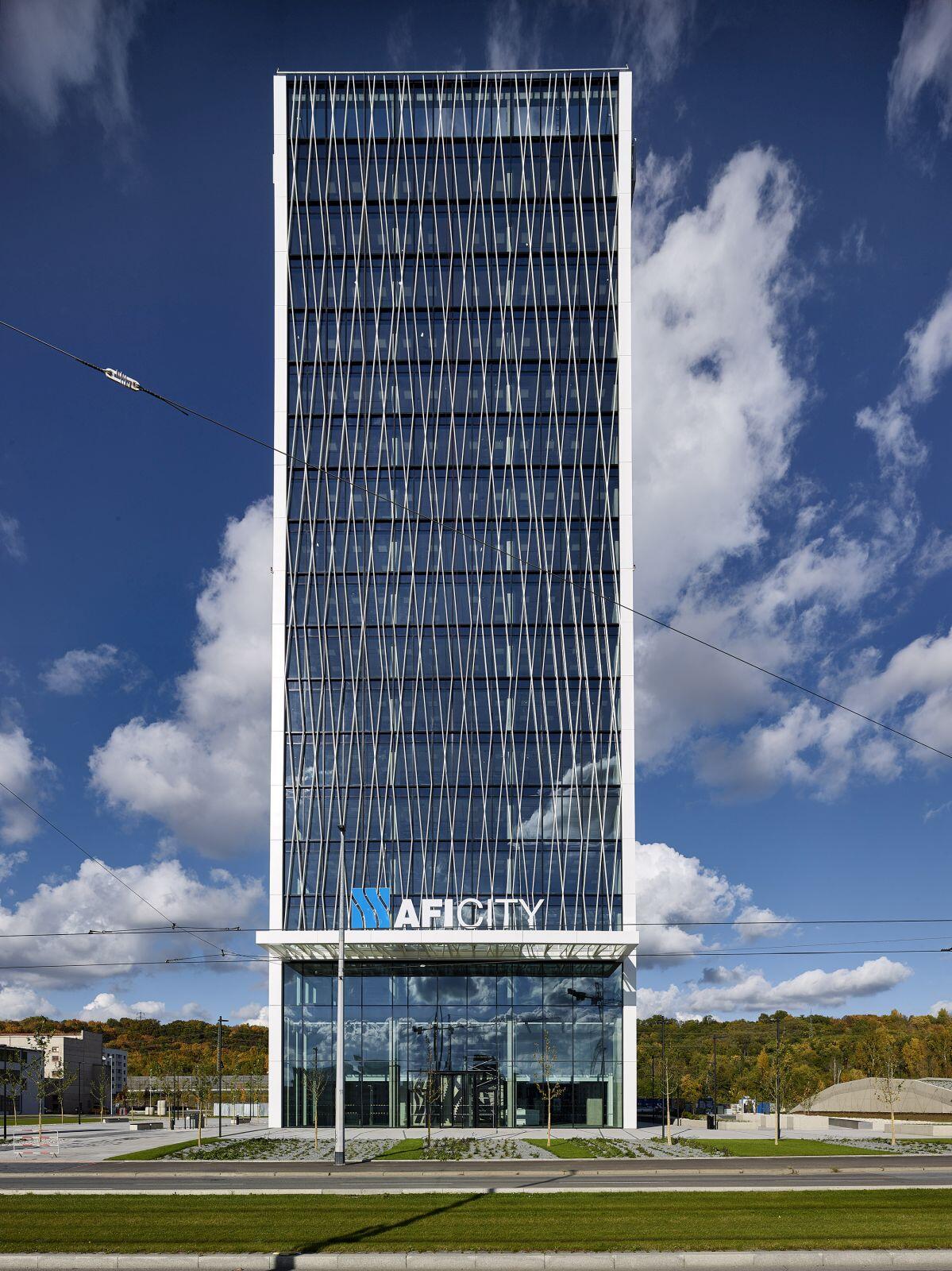 AFI City 1, zdroj: AFI Europe Czech Republic
AFI Avenir Park is our acquisition from 2021. It is located in Prague 5 - Nový Butovice, thus occupying a strategic position halfway between the city center and Václav Havel International Airport with excellent transport connections both by car and public transport. Altogether, it offers 25,000 m2 of space for rent.
3. What sets you as a development company and your office space apart from the competition?
When it comes to our administrative buildings, it is their quality, timelessness and stability. We built and leased most of the objects in the portfolio ourselves, we also manage and continue to operate the buildings ourselves. We are therefore in contact with the tenants from the beginning of the entire process and throughout the duration of the ongoing lease. At individual buildings, we have our own facility managers who take care of clients in dealing with daily operational matters, and at the same time our sales team also covers all business matters – from the preparation of rental agreements to marketing. Our goal is to build long-term and satisfied relationships with our clients, and I firmly believe that we are succeeding in this.
4. What changes in demand, supply and changes in client behavior do you perceive against the background of today's economic situation?
It always depends on the specific location and property. The situation is different in Karlín and different in Vysočany. Recently, we have registered a relatively large number of renegotiations, i.e. the extension of existing leases for another period. However, we also have newly arrived tenants. In some cases, the decision-making process of clients takes quite a long time. Of course, other factors, such as the currently high rate of inflation or the prices of building modifications, have an influence on the decision.
5. Who are your main tenants and what is the occupancy rate of your office buildings?
Occupancy is 100% in several buildings, while elsewhere it is slightly below this figure. Our long-term tenants include, for example, ALEF, mBank, Edenred and Slevomat in the AFI Karlín complex, or the companies EUC, Canadian Medical and HH Global in AFI Vokovice. The largest tenants in the Classic 7 complex in Holešovice include COMAP, Etnetera, VIG, Eset Software and TP Vision. Of course, I could continue like this, but for everyone, I would like to mention the lease agreement concluded last year with Škoda Auto in the AFI City 1 building.
6. What is the importance of environmental quality and the potential for possible improvement for your company?
Sustainability plays a fundamental role in our buildings, and we have been dealing with ESG issues quite intensively for a long time. All our office buildings are certified by one of the internationally recognized BREEAM or LEED certificates. Specifically, for example, AFI Karlín achieved BREEAM certification in the Excellent standard and AFI Vokovice the highest level of LEED Platinum. We always make sure there is enough greenery in our projects - whether
it's green roofs, green facades or a connected public space with newly implemented planting. At the same time, we pay attention to the efficient use of energy, rainwater, etc.
7. What interesting projects are you planning for the future?
In the field of administrative construction, we plan to continue with the expansion of office buildings within the AFI City project. The AFI City 2 building is in the pipeline, which should include approximately 10,000 m2 of leasable space for administrative tenants, as well as approximately 3,800 m2 for retail units.