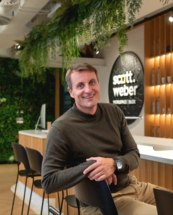 1. Could you introduce us to your company? (locations of office space, total leasable area, etc.)? What does your company do?
Scott.Weber Workspace has been providing private flexible offices and coworking spaces since 2009. Even if it seems at first glance that our only activity is renting offices, this is not the case. We build state-of-the-art design work environments in the spirit of well-being and in the context of a hybrid work model. We regularly organize lectures, workshops, networking breakfasts and barbecues for our clients. We equip the offices according to the wishes of the clients and to a certain extent we take care of the running of their companies. We respond flexibly to increasing demand by expanding to new locations - The Park, Port7, or expanding existing ones - Atrium Flora, Flow Building Praga Office & Garden. Already at the beginning of 2024, we will open the newest DOCK center, which will meet the principles of well-being down to the smallest detail. Together, we take care of 5,000 jobs on 40,000 m² of space. We are planning to go beyond the borders of the region as well.
2. How does your company differ from other lessors of administrative space?
The main difference from other lessors is that our concept is not based on renting offices as such, but is based on serving the client in the broadest sense of the word. Short-term contracts are a big advantage of flexible offices. Companies can expand, reduce or even leave their premises entirely. They don't care about the equipment, they have everything arranged in advance. We take care of the reception, mail, IT, cleaning and other operational matters, so clients can focus only on their business. In addition, we organize events for their employees, which is also a great help for HRists. Furthermore, we choose buildings that meet the highest criteria of sustainability and health safety of the exterior and interior spaces. We provide clients with first-class office equipment, including ergonomic furniture, facilities, IT security, and cutting-edge technology. Functional, modern and attractive office environment refers to private serviced offices, coworking, meeting rooms and event spaces. All this is complemented by a large number of relaxation zones, gaming rooms, but also rooms for undisturbed work in an environment that supports creativity and productivity. We provide all services from supplies, and reception to cleaning, and, last but not least, we take care of the mental well-being of our clients by organizing various events where they can meet and network, or even create new business opportunities.
3. What prompted you to build flexible office centers?
During my career, I have had the opportunity to be part of the areas that are currently coming together in the Scott.Weber Workspace concept. I started as the head of purchasing, then I was the head of operations of a large technology company, then I had the opportunity to work in the business development department offering outsourcing IT services, and finally in the position of director of an outsourcing company with international responsibility, specifically for Europe. The concept of coworking and flexible offices is growing and will continue to grow. It is an evolutionary change that is irreversible. I see that there is room in the market to have premium and prestigious office spaces and top services where the client is pampered. This is either not on the market, or not as good as what we offer. Our growth is proof that there is a demand for such a service.
4. What do your acquired administrative centers have in common?
First of all, we choose attractive locations that are usually directly on the metro, so they are easily accessible by public transport and by car. As I mentioned above, we put a lot of emphasis on it meeting the highest sustainability criteria, especially BREEAM, LEED and WELL indoor environment certification. Within our premises, we maintain the concept of harmony between work and rest, so at each center you will find various relaxation zones, games, or a running track on the roof of the building. We put a lot of effort into design, and even though all centers have these pillars in common, we put each one in the hands of professional designers, so that each center has its own specific spirit.
5. How do you see the future for flexible office centers?
I think that as much as this segment has grown significantly in recent years, we are still at the beginning of building it. People are beginning to realize the benefits of the comfort we provide them and appreciate the time and effort they save and thanks to this they can devote themselves to their business. Overall, the mindset and approach to work has changed, people prefer a hybrid work model, companies have to respond to this and we give them a helping hand. Until recently, similar spaces were full of freelancers and digital nomads, but large companies and corporations are also getting on the train, and I see the future in the public sector as well. I think what we're trying to build here will be the new normal in a few years.
6. Currently, your portfolio consists of 13 locations. Can we look forward to more centers being added in the near future?
Definitely yes. We will open our newest center in DOCK in early 2024, but it is far from over