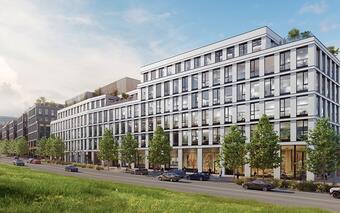 The recovery is also evident in the flexible office market. Based on the growing demand of end users and tenants, it has opened or will open 4 new coworking centers and 3 centers operating serviced offices in Prague this year alone or by the end of the year.
"Thanks to another wave of Covid-19, the situation may change in the short term. In the medium term, however, expressed in terms of, for example, the length of leases, we see a trend of stabilization, "comments Lena Popova, head of office leasing at BNP Paribas Real Estate.
The renegotiation of NN in the Zlatý Anděl building (6,500 m2) in Prague 5, mediated by the BNP Paribas Real Estate team, spoke most to the lease balance. 3,500 m2 in the Hadovka building in Prague 6 was also negotiated by the tenant Aeskulab. The mailroom then leased 3,300 m2 in the Balabenka Office Building in Prague 9.

CTR Group - Viktoria Center
The past quarter is also evidenced by the slowdown in construction that occurred during 2020. The only office building was completed: the New Town Hall in Prague 12, which created approximately 1,000 m2 for commercial lease. The Harfa Business Center B project (24,350 m2) in Prague 9 from developer Kaprain and the multifunctional Viktoria Center project in Prague 3 Žižkov, which includes not only office but also residential and retail space, are to be completed by the end of the year. The office area here occupies 1,750 m2.
Of the aforementioned city-wide projects, work continues on Masarykova and Nová Waltrovka from Penta Real Estate or Port 7, behind which Skanska is behind.
"The expected increase of 500,000 m2 of new offices by 2025 will include the extensive implementation of Sekyra Group in Smíchov and Karlín Rohan, as well as the administrative part of the Hagibor project from the Crestyl development group," adds Kamila Breen, head of BNP Paribas Real Estate market research.

Crestyl - Hagibor
In Q3, two of the main indicators of the development of the office space market remained without major fluctuations. A vacancy has risen slightly to the current 8%, which is still assessed as a low vacancy rate. Rents also remained stable. Both in the center of Prague, where it ranges between 22.50 - 23.00 EUR / m2 / month, in the inner city with 15.50 - 17.0 EUR / m2 / month and on the outskirts of the metropolis with a range of 13.50 - 15.0 EUR / m2 / month.