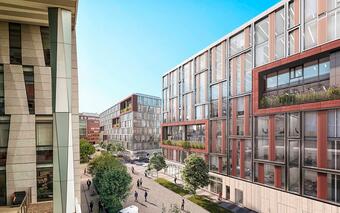 Currently, less than half of all office space in the Mississippi House and Missouri Park projects being completed at the same time is leased, six months before approval. The construction of both buildings, which are part of the River City Prague office complex, was started by CA Immo in September 2019. The expected completion date is this summer. Together, they will offer 20,750 square feet of leasable space (13,380 square meters in Mississippi House and 7,370 square meters in Missouri Park). CA Immo's total investment will reach approximately 65 million euros.
CA Immo has already started the WELL Core & Shell certification process for both buildings. This internationally recognized certificate is an indicator of the high quality of the indoor environment of buildings that support the health and satisfaction of their users. The mentioned objects reach the highest level in the LEED Platinum level.
Originally a Czech company, BATIST Medical is a major European supplier of high-quality medical and hygiene products. In addition to the Czech Republic, it has branches in Slovakia, Poland, Germany and now also in Portugal and Spain.
Václav Jonáš, Director of CA Immo in Prague, states: "BATIST Medical is an ideal tenant for Missouri Park. Our building is focused on highly innovative, promising and environmentally responsible companies that want to offer their employees a healthy, modern and attractive office environment. Missouri Park and therefore the entire River City Prague office complex offer exceptional architecture complemented by interesting landscape elements in the form of the newly revitalized Vltava bank. All this set in Karlín, which is one of the most popular districts in Prague with a high standard of living."
Tomáš Mertlík, owner and CEO of BATIST Medical, comments: "The Missouri Park building is an ideal space for our company because it is in line with our own corporate philosophy with an emphasis on innovation, sustainability and concern for the environment. That is why we have chosen it as our new European headquarters for the entire BATIST Medical Holding group. Our goal is to support employees in a healthy lifestyle, and that was one of the reasons why we chose this location in Prague, and this building in particular."
Missouri and Mississippi, visualization
Mississippi House and Missouri Park will complement the River City Prague office complex, which currently includes three Class A office buildings (Amazon Court, Nile House and Danube House). The new buildings were designed by the Danish architectural studio Schmidt Hammer Lassen and follow the high architectural standard of the entire complex. River City Prague is located on the Rohanské nábřeží right by the Vltava River and close to the city center.
Both buildings will have eight above-ground and two underground floors intended for parking with a capacity of 230 parking spaces. There is also a bicycle storage room and facilities for cyclists, including showers. The architectural concept includes, among other things, green terraces, flexibly usable offices with plenty of daylight and a representative entrance lobby.
The average estimated annual primary energy consumption will be 50% lower than the Czech standard for the energy performance of new buildings. This exceptionally high energy efficiency and eco-friendly design is ensured, among other things, by intelligent lighting that has a positive effect on the circadian rhythm, carbon emission monitoring, geothermal heat pumps, waste recycling and rainwater harvesting.
The location of the buildings is also exclusive - it is located directly on the banks of the Vltava River with plenty of greenery and a view of Prague Castle. Karlín is a dynamically developing Prague district with very good infrastructure and accessibility. The local restaurants, cafes and easy connection to the bike path and the pedestrian promenade further increase the attractiveness of the whole project.
About CA Immo Czech Republic
The Czech portfolio of CA Immo includes five office properties located in the capital Prague: River City Prague administrative complex with Danube House, Amazon Court and Nile House buildings, Kavčí Hory Office Park and Visionary building. The book value of the Czech investment portfolio with 130,000 m2 of leasable areas is approximately EUR 385 million (ie approximately 8% of the total book value of all properties owned by CA Immo). As of September 30, 2020, the occupancy of the Czech portfolio was 97%. All CA Immo office buildings in Prague are awarded international LEED certification or the German DGNB certification system, which has assessed their exceptional environmental friendliness.
Source: // Retrend