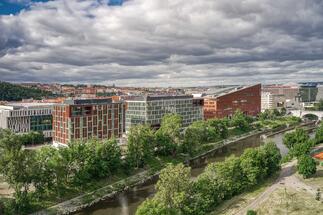 CA Immo is experiencing strong demand for its premium offices on the River City Prague campus: with the signing of 3 new leases for a total area of ​​4,700 m2, the Mississippi House and Missouri Park office buildings, completed in the summer of 2021, are completely leased. During the first five months of this year, CA Immo concluded a total of 18 lease transactions in its 7 office properties in Prague. These were mostly new leases and expansions of companies, which represents almost 16,200 m2 of modern office space.
Václav Jonáš, Director of CA Immo in Prague, states: "Our vision to build and further develop River City Prague as a sustainable, innovative and healthy office campus with a quality work environment and attractive services is met with a very good response from tenants. This confirms the legitimacy of our claim that people will really like to come here to the offices in River City Prague, because it is "even better here than at home". Today, companies face a trend in hybrid work, demographic change and a persistent shortage of skilled workers. For this reason, they are increasingly considering high-quality office space as a value and an important part of their business model. From our point of view, the future of offices clearly lies in the premium segment. "
What is truly unique about the new Mississippi House and Missouri Park office buildings is the symbiosis of a modern office environment with riverside nature, a boardwalk, a community park, and a variety of leisure opportunities. In Missouri Park, 2 new leases were recently signed for a total area of ​​approximately 3,900 square meters. Tenants in the new buildings include the international consulting firm ADASTRA, the cybersecurity software firm SentinelOne, the international law firm Allen & Overy and the international law firm Bird & Bird, Europe's largest web price comparator and online shopping consultant Heureka or the world's leading healthcare company Novo Nordisk. The modern office space of Mississippi House and Missouri Park is now 100% leased mainly by companies from the IT, pharmaceutical and professional consulting sectors. The largest lease transactions completed by CA Immo in Prague this year are two new leases in the Nile House building for approximately 5,700 m2 of office space.

Both Mississippi House and Missouri Park achieved the highest standards of sustainability when they obtained LEED Platinum certification. Both buildings now target WELL Platinum and WELL Health & Safety certification, which are proof that the offices provide their tenants with a comfortable indoor environment.
CA Immo's Nile House office building recently received a Gold rating in the new version (4.1) of the LEED EB: OM (Existing Buildings; Operations and Maintenance) green certification. All three mentioned buildings are part of the River City Prague campus, which is located in the sought-after Karlín district of Prague. The campus consists of 5 buildings and provides 85,000 m2 of Class A office space.