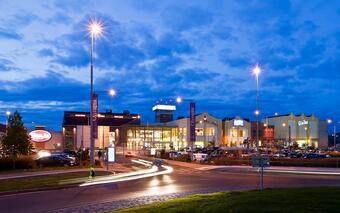 The structure of the Czech part of CPI Property Group has been undergoing reorganization in recent months. Following the merger of the property and asset management departments, the facility management division has now been sold. It will be newly covered by Mark2 Corporation, M2C FM, s.r.o., where both the CPI Property Group and M2C have ownership shares.
"This step is related to our long-term strategy, which aims to focus on the main sectors of our business, which include, in particular, investments in the development of the real estate portfolio, its development and strategic management. In the case of professional activities that are not directly related to these business goals, we want to work closely with companies for which these activities are their main focus. This also applies to facility management," explains Zdeněk Havelka, Executive Director of CPI Property Group, and adds:
"Our employees, who have recently become part of M2C, deserve a big thank you for the years spent in our company. We value them and we are glad that M2C will provide them with a new background for a strong and stable employer."
When choosing a facility management partner, M2C was the first and clear choice for CPI Property Group for many reasons. M2C is a major Central European company with international know-how. In addition, it is a stable company with many years of experience in facility management and many other fields. M2C has been providing professional services for real estate in the CPIPG Group for many years.

"We are very pleased to have the opportunity to grow in the facility management segment together with CPI Property Group as the largest property owner in Central Europe. We value the new employees we receive from CPIPG, as well as their high professional level achieved in the internal division of facility management in CPIPG. By integrating it, we will strengthen our position on the market, increase our regional reach and we will continue to strive for the satisfaction of our clients and users of the buildings we take care of under the M2C brand," adds JUDr. Matěj Bárta, co-owner of M2C.
About CPI Property Group
CPI Property Group is a leading long-term owner of for-profit real estate in the Czech Republic, Berlin and the region of Central and Eastern Europe. The group's headquarters are located in Luxembourg and its shares are listed on the Frankfurt Stock Exchange. The CPI Property Group ("CPIPG" or the "Group") owns and operates an extensive, diversified and high-quality real estate portfolio valued at € 9.8 billion as of June 30, 2020.
The Group's portfolio is highly diversified. The Group's largest segment consists of offices (42%, mainly in Prague, Berlin, Warsaw and Budapest), followed by retail facilities (22%, mainly dominant regional shopping centers and retail parks mainly in the Czech Republic, Poland and Hungary). CPIPG also owns hotels and resorts (7%), residential real estate (7%), land bank (7%), construction real estate (2%) and industrial, agricultural and logistics facilities (3%).
66% of CPIPG properties are located in the Czech Republic (41%) and Berlin (25%), with the remaining properties located in strong markets in Central and Eastern Europe, such as Poland and Hungary (30%) and to a lesser extent in Western Europe. Europe (4%).
Source:// Retrend