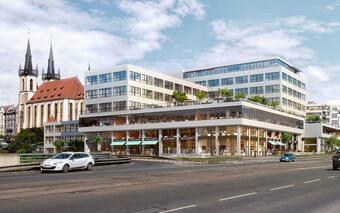 "Wolt needed to expand, unfortunately there was no room for that in the current building. Together we managed to find an ideal solution in the form of the Bubenská 1 Palace, the reconstruction of which we are currently completing. It suits to Wolt not only due to the size of its offices, but also due to its strategic location near the metro and tram and, last but not least, thanks to the bike shed for its couriers," says David Votřel, asset management manager for the office segment at CPI Property Group.
The Kantar agency will move a total of three branches to Holešovice, one of which has so far been housed in another building from the CPIPG portfolio, Meteor Center Office Park. The Bubenská Kantar Palace occupies almost 2,400 m2. At present, the detailed specification of future offices is being completed, which the owner will prepare for the client according to his ideas and requirements.

Bubenská Palace 1, view from the floor
"The listed Bubenská 1 is a brilliant place, it has an incredible atmosphere and possibilities. Thanks to the reconstruction, during which the most modern technical equipment was installed inside, sensitively connected with the original elements, it also meets the highest demands on the quality of offices. It also has great accessibility, all of which makes it an ideal workplace. It is therefore not surprising that before it is even possible to move to offices, they are completely rented. We are convinced that the tenants and their employees will be thrilled in the palace," says David Votřel.
At the moment, only retail units on the ground floor and basement of the building remain to be rented in the building.
About CPI Property Group
CPI Property Group is a leading long-term owner of for-profit real estate in the Czech Republic, Berlin and the region of Central and Eastern Europe. The group's headquarters are located in Luxembourg and its shares are listed on the Frankfurt Stock Exchange. The CPI Property Group ("CPIPG" or the "Group") owns and operates an extensive, diversified and high-quality real estate portfolio valued at € 9.8 billion as of June 30, 2020.
The Group's portfolio is highly diversified. The Group's largest segment consists of offices (42%, mainly in Prague, Berlin, Warsaw and Budapest), followed by retail facilities (22%, mainly dominant regional shopping centers and retail parks mainly in the Czech Republic, Poland and Hungary). CPIPG also owns hotels and resorts (7%), residential real estate (7%), land bank (7%), construction real estate (2%) and industrial, agricultural and logistics facilities (3%).
66% of CPIPG properties are located in the Czech Republic (41%) and Berlin (25%), with the remaining properties located in strong markets in Central and Eastern Europe, such as Poland and Hungary (30%) and to a lesser extent in Western Europe. Europe (4%).