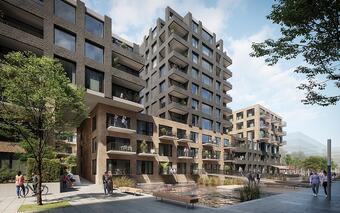 Highlights for the first half of 2021 include:
̶ CPIPG's property portfolio increased to €11.2 billion (up 9% versus 2020) as the Group completed €580 million of acquisitions and benefited from a €317 million increase in the fair value of residential, landbank and office assets along with FX movements.
̶ Total assets reached €12.6 billion (up 7% versus 2020), driven by increases to the property portfolio, offset by a slight reduction in cash and cash equivalents.
̶ The Group collected 95% of contracted rent in H1 2021 before the impact of one-time COVID-19 discounts, which amounted to about 4% of gross rental income. Office and residential collections were close to 100%.
̶ Net rental income increased to €175 million (up 7% versus H1 2020) and consolidated adjusted EBITDA rose to €172 million (up 5% versus H1 2020) due to the contribution from recent acquisitions and developments, broadly stable occupancy at 92.6%, limited COVID-19 rent discounts and 1.9% like-for-like growth in gross rental income.
̶ Because of effective cost control, the hotel segment reported only a small net loss(-€4 million) despite hotels being closed for much of the period. As the COVID-19 situation improved across our portfolio from April/May 2021, the Group has seen a strong increase in hotel bookings.
̶ Net business income (up 6% versus H1 2020 to €178 million) and FFO (up 10% versus H1 2020 to €127 million) show the benefits of CPIPG's stable business performance, diversified sources of income, and contribution from recent acquisitions.
̶ EPRA NRV (NAV) increased 3% to €5.3 billion.
̶ Net Loan-to-Value (LTV) at 41.9% (+1.2 p.p. versus 2020, -0.6 p.p. versus H1 2020) remained in line with the Group´s financial policy guidelines. In support of our commitment to financial policy and credit ratings, the Group will take actions to reduce leverage and create headroom for further selective acquisitions.
̶ Unencumbered assets remain high at 69% (-1 p.p. versus 2020) and net ICR stood at 4.8x (-0.6x versus 2020), well above financial policy guidelines.
̶ CPIPG's total liquidity stood at more than €1.1 billion at the end of H1 2021.