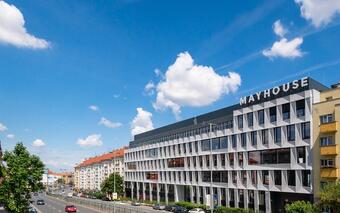 "Having Albatros Media under your roof is, of course, a great success for us, and we will do everything we can to make the new tenant thrive with us and make its employees feel great. Currently, we are jointly finalizing detailed specifications of future offices, which we will tailor for the new client according to his ideas and requirements," says David Votřel, head of asset management for the office segment in CPI Property Group.
"As our company is constantly evolving and following new trends, we want to keep up with the times also in terms of work facilities. We are therefore very much looking forward to modern offices and we believe that our employees will like them and especially that they will feel good in them. The satisfaction of our employees is key for us," says Libuše Kocanová, Operations and Human Resources Director, on behalf of Albatros Media.
Mayhouse is a new office building in the most desirable administrative location in Prague 4, just a few minutes walk from the Pražského povstání or Pankrác metro station, which emphasizes offices enabling the most modern approach to work. On six floors and an area of ​​7,800 m2, it offers not only office space but also appropriate facilities. For moments of relaxation, all employees have access to an outdoor roof terrace with views of the Prague skyline. There is also a coworking zone and facilities for athletes - fitness, exercise hall or bike shed.

The building, which fills the gap between the two houses on 5th května Avenue, was approved in May 2019 and its tenants currently include 4finance IT and Zaplo Finance, members of the global financial group 4finance Group. The Mayhouse project belongs to the portfolio of the real estate investment group CPI Property Group, which is the largest owner of office space in Prague.
About CPI Property Group
CPI Property Group is a leading long-term owner of for-profit real estate in the Czech Republic, Berlin and the region of Central and Eastern Europe. The group's headquarters are located in Luxembourg and its shares are listed on the Frankfurt Stock Exchange. The CPI Property Group ("CPIPG" or the "Group") owns and operates an extensive, diversified and high-quality real estate portfolio valued at € 9.8 billion as of June 30, 2020.