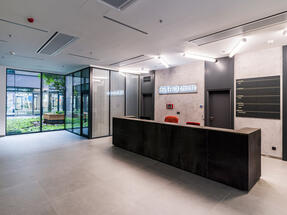 The environmentally friendly and sustainable Astrid Offices building with five above-ground and two underground floors was created on the site of the former Astrid cosmetics brand factory in Dělnická Street. It combines quality architecture and modern technology with a user-friendly and comfortable indoor environment, thanks to which it recently received LEED Gold certification. She won 3rd place in the New Administrative Centers category from this year's prestigious "Best of Realty" competition.
Astrid Offices' architectural design comes from the workshop of the international studio Bogle Architects. One of the characteristic elements of the building is the ubiquitous greenery - for example in the form of a grassy roof of a green atrium or mature trees in a quiet courtyard. Apart from UBM Development Czechia, Astrid Offices' tenants also include Budweiser Budvar, Algon, EAG and SKF. The ground floor was rented by FitHaven, the most modern fitness club in the Czech Republic.
Josef Wiedermann, CEO of UBM Development Czechia, commented on the transaction: "We are very pleased to have seen such interest in the building - both from its tenants and from potential investors. The PORTIVA Group is a renowned real estate investor who, through the acquisition of Astrid Offices, acquires one of the most modern office properties in the capital, in a prestigious location and with well-known tenants. The funds obtained from the sale will be used for further acquisitions on the Czech market, where we would like to focus primarily on residential and office projects. "
Pavel Svoreň, Member of the Board of Directors of the PORTIVA Group, added: "We have been cooperating with UBM on the Astrid Offices project since the initial construction phase in February 2020. I am very pleased that we have overcome all construction pitfalls, but above all office market caused by the Covid-19 pandemic, the building will be fully occupied from the outset. The high professionalism and experience of the UBM team was evident throughout the development and leasing process. In addition, we consider Astrid Offices to be such a high-quality building that we have decided to move the new Prague offices of the PORTIVA group here. "
Since its establishment, the PORTIVA investment group has operated in four main divisions: in addition to real estate, these mainly include energy, fund management and a private equity division focusing on automotive software services. The PORTIVA Group's real estate portfolio includes, for example, the largest shopping center in the Central Bohemian Region, Central Kladno, and a shopping center in Ivančice, South Moravia. It is preparing acquisitions of other shopping centers and premium offices. Assets under group management exceed CZK 9 billion.