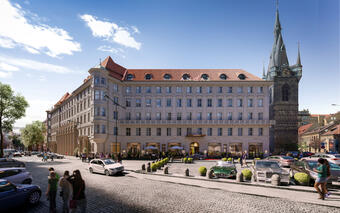 "Apart from the successfully sold apartments in two projects and the complete lease of the Astrid Offices office building, we are very pleased to have successfully completed one of our biggest investments - the reconstruction of the former Sugar Mill Palace. The luxurious lifestyle hotel Andaz Prague was opened in early March. We are very pleased to have brought this beautiful building back to life and shine, and Senovážné náměstí can now come to life thanks to hotel guests and clients of the Zem restaurant, "said Josef Wiedermann, CEO of UBM Development Czechia, outlining other plans. The principles of the corporate strategy Green Green (sustainability) - Smart (construction of intelligent buildings) and More (their added value) 'are key for us, and therefore we want to strengthen the environmental elements of projects as much as possible. Following the example of UBM abroad, we also plan to make more use of ecological wooden structures in the Czech Republic during construction. We also target BREEAM certification for housing projects, which, unlike offices, is not yet common in the residential segment. "

With an emphasis on ecology
Today, the energy performance of buildings and their carbon footprint is one of the main construction topics. Therefore, in all its projects, UBM focuses on ecological, innovative and energy-saving solutions from the design phase to implementation. Its green buildings have been verified for many years by internationally recognized building certificates. "The focus on sustainable development is becoming increasingly important and UBM has set itself the goal of becoming the leading developer of timber structures in Europe. We prepare and implement housing and administrative projects abroad and we are also preparing them in the Czech Republic. Wood is a very ecological and fully recyclable material. Combined with sustainable energy production and use, we can significantly reduce CO2 emissions throughout the life cycle of projects. UBM buildings thus aim to achieve the goal of climate neutrality, "explains Josef Wiedermann. Foreign realizations of UBM with wooden constructions are, for example, the Barany residential complex.7 in Vienna or the Timber Pioneer office building in Frankfurt am Main.
The first Timber Pioneer wooden office building to reduce CO2 emissions by 80% thanks to its wooden construction
Reconstruction of the Sugar Mill Palace and the Astrid Offices office have been completed
The UBM building of the former Sugar Mill Palace on Senovážné náměstí in the center of Prague led to a successful approval. The more than 100-year-old building has undergone a demanding and sensitive reconstruction. It has been transformed into a luxurious five-star Andaz Prague hotel with 176 rooms, operated by the renowned multinational Hyatt network.
The Astrid Offices office building, which boasts LEED Gold certification, acquired a new owner in December last year, the Portiva investment group. The project with 4,300 m2 of office space and 440 m2 of retail space on the ground floor is fully leased; in December, UBM itself also moved into it. This year, the developer will start construction of a residential part called Astrid Residences, where it will aim to obtain BREEAM certification.

Arcus City is being built and sold in bulk
The construction of the Arcus City project on the border of Stodůlek and Řeporyjí was also started last year. UBM has launched 150 housing units, of which almost 80% have already found new owners. "Given the enormous demand for housing in Prague and the fact that the apartments in the Arcus City project are rapidly disappearing due to their great location in a quiet location, we are preparing another 66 apartments for sale and new applicants are coming to us," says Josef Wiedermann. In this house there will be not only apartments, but also business units located on the ground floor. The pleasant atmosphere of the new district will be complemented by a small square. The final stage with four apartment buildings and 10 family houses will follow.
The sale of flats in the Neugraf project, which UBM has in a joint venture with Crestyl, is also running successfully. Only two dozen flats and four business units remain vacant.