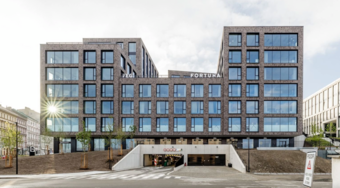 The complex was bought from Penta by Českomoravská Nemovitostní (ČMN) and Corporate Finance House Group (CFH). This is the largest store on the office real estate market in the Czech Republic this year.
The brownfield complex in the center of Prague began to emerge in 2017, when Penta Real Estate began construction of two office buildings, and a year later SUDOP began building a residential building next door.
The first of the office buildings became Deloitte's new headquarters at the beginning of 2019, and in June this year, the majority of the second building was occupied by Fortuna Entertainment Group. The complex of new office buildings is complemented by retail spaces and services on the ground floor.
"Originally, we no longer wanted to sell our buildings in the center of Prague. However, the unexpectedly great interest of investors was a strong argument for the exception. It is known that renowned interested parties believe in investing in quality architecture in an exceptional Prague location even during the coronavirus pandemic," said Pavel Streblov, Penta Real Estate's director for commercial construction.
In the competition, which also included offers from investors from Germany, Austria and the United States, the ČMN real estate group won a joint venture with CFH. Both companies already have a common business history in Prague, for example the City West C1 and C2 building, where Vodafone is based in Prague 5, Crystal with VZP in Vinohrady or the BLOX building in Prague 6. This is CFH's fourth investment in Prague since in 2016.

"Churchill Square, with its quality and location, fits exactly into our strategy, which focuses on premium office buildings in Prague. By purchasing these buildings, we have strengthened our position on the market and established ourselves among the ten largest owners of office space in Prague," said the Chairman of the Board of Directors of ČMN, Radek Stacha.
The largest transaction this year on the office market was financed by the German bank Helaba. In the Czech Republic, it has previously participated in financing the acquisition of the Palladium shopping center or the implementation of the CTP development plan in the field of logistics.
Source:// Forbes