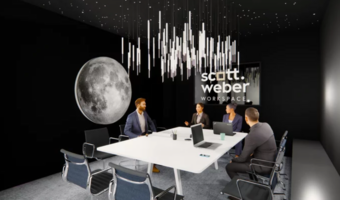 Scott.Weber Workspace focuses on private flexible offices, where clients can change the number of workplaces in pre-equipped offices according to current needs and are not bound by five or seven-year contracts like in conventional offices. In addition to private offices, it also offers coworking and event spaces, as well as the possibility of setting up a virtual company headquarters. In the first half of the year, Scott.Weber Workspace will operate 12 centers where it will offer its clients nearly 5,000 jobs.
The Park offers a workspace in the middle of the park
The Park campus is adjacent to the Westfield Chodov shopping center. This is a location conceived as a park. "It's literally a park. The last time a new park was created in Prague was 80 years ago," says Adam Zvada, CEO of Scott.Weber Workspace. The central part of Kam Pusu is lined with cafes, restaurants, but also a fitness center, pharmacy, dry cleaning, newsagent and other services. There are also sports fields for volleyball, golf and other active entertainment in the natural environment. Even the interior spaces are designed in connection with nature, be it design meeting rooms, relaxation zones or coworking spaces. "And it's not just about connecting with nature. We have also prepared unique shared gaming-style places not only for PC game players, but also for those who like active PC gaming. They have a golf hitting trainer at their disposal," adds Adam Zvada.
Meeting room on the water
The newly built Port7 complex, located on the very bank of the Vltava River, will offer a solution that is completely out of the ordinary in the Czech Republic - premises designed as a port. Its great uniqueness is the regular shipping line. People can also use a train, metro, tram, bus or car for transport within a radius of 50 meters. There is also a newly reconstructed bike path and a running track leading to Stromovka leading to the complex.
"Park7 makes full use of the potential of the site on the bank of the Vltava. Here, our clients can rent meeting rooms directly on the water. They will also have access to a roof terrace with a view of the Holešovice embankment, which, thanks to the private bar, is ideal for organizing corporate and private events," says Adam Zvada.
Scott.Weber Workspace continues to expand. Opens The Park and Port7 with a capacity of over 800 seats Author: Scott.Weber Workspace
Pleasant offices motivate people to come to work
An Ipsos Instant Research survey for Scott.Weber Workspace showed that employees and employers often differ in their views on what an office work environment should look like. More than half (52 percent) of workers consider the space where they work unsatisfactory. What they lack the most is a place to take breaks and rest. At the same time, 78 percent of employers believe that their employees are satisfied with office equipment.
"The lack of opportunities for rest and relaxation zones has a demonstrably negative effect on employee productivity. Shared design spaces that stimulate creativity also have a positive effect. Unfortunately, some conservative-minded managers still think that the most efficient use is the space with desks and computers, and non-working spaces are unnecessary and expensive. However, the opposite is true and fortunately more and more companies are realizing this. This change in thinking also comes with the arrival of millennials and generation Z," concludes Adam Zvada.