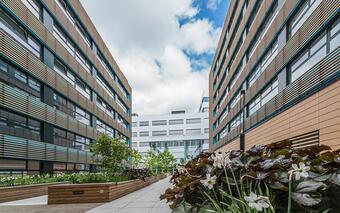 "We really appreciate the award for our reconstruction in the prestigious HOF Awards competition, because it is proof that we are doing our job well. Within the complex, we want to offer first-class office space in which our tenants will have maximum comfort and which meet the latest standards of category A office space. its users. In addition to the buildings themselves, we place great emphasis on added value in the form of pleasant public space and rich civic amenities, "said Lenka Preslová, Sales Director of Passerinvest Group, a.s.
Building B has undergone a complete renovation, including the modernization of all internal technologies, new cladding in earthy tones or a generous roof garden richly planted with greenery. The aim of the reconstruction was to create a quality working environment that meets all demands for comfort and ecological operation. As part of the renovation, the adjacent public space was also refined. The building received a new open atrium with numerous seating options, rich greenery and a water feature, which serves as an outdoor office and relaxation area. A new Ellen G. White Square with mature trees and a jet fountain was also built in front of the building.
The HOF Awards Best of the Best was founded in 2016 and recognizes projects of the year in the field of office, retail, residential and logistics real estate, as well as companies operating in the real estate market, banks and project managers. Among the nominees are the annual winners of the CIJ Awards from individual countries in the region of Central, Eastern and Southeastern Europe. In the past, Passerinvest Group also received this award for the reconstruction of administrative Building A in Prague's Brumlovka.

The reconstructed Building B in Prague's BB Center won the prestigious HOF Awards 2021