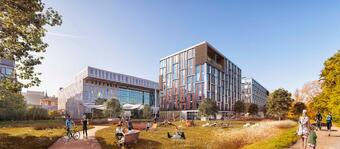 CA Immo acquired another tenant for the newly prepared Missouri Park office building, which is currently under construction in a premium location in Prague 8 - Karlín. A total of 1,400 m2 of office space was leased here by the law firm Allen & Overy. Missouri Park and Mississippi House are currently being 40% leased and are expected to be completed in July this year. Both buildings are part of the River City Prague office complex on Rohanské nábřeží. They rely on a healthy and attractive work environment combined with the use of modern technologies, thanks to which I profile myself as the offices of the future. Together, they have almost 21,000 m2 of leasable space, bringing the total volume of offices within River City Prague to more than 80,000 m2. CA Immo's total investment in the Missouri Park and Mississippi House buildings will reach approximately 65 million euros.
Václav Jonáš, Director of CA Immo in Prague, states: "We are very pleased that Allen & Overy has decided to use the River City Prague campus in Karlín as its new address and Prague office. For us, this is a confirmation that this project attracts innovative companies from all fields, who want to be well prepared for the future, want to provide their people with an attractive and healthy working environment in a technologically advanced building, and at the same time a responsible approach to the environment is essential. . Personally, I am very much looking forward to the new Allen & Overy offices and I believe that they will be a perfect confirmation that the offices as a space for work, meeting, relaxation and building a corporate culture are far from saying their last word. I believe that the Allen & Overy team, like other tenants of River City Prague, will make full use of the surrounding greenery and landscaping, which are created within the project and can be used not only for relaxation, but also for work. "
Allen & Overy is an international legal practice with approximately 5,500 employees. Since entering the Czech market in 1992, it has gained a reputation as one of the best law firms in the Czech Republic. The Prague office offers a wide range of advisory services in the fields of company law, financial transactions (including debt and equity), taxes and litigation.
CA Immo places great emphasis on sustainability, low energy consumption and low immissions in all its projects. Both buildings are already in the certification process for obtaining international LEED Platinum certifications (assessing the building's impact on the environment, water and energy consumption, materials used and indoor environment) and WELL Core & Shell certification (confirming high indoor quality supporting health and satisfaction its users) and the WELL Health & Safety Rating (a certification created in response to the covidu-19 pandemic to promote a safe working environment and employee health).
Mississippi House and Missouri Park will complement the River City Prague office complex, which currently includes three Class A office buildings (Amazon Court, Nile House and Danube House). The new buildings were designed by the Danish architectural studio Schmidt Hammer Lassen and follow the high architectural standard of the entire River City Prague complex. They are located on the Rohanské nábřeží, right by the Vltava River and close to the city center.
Both buildings will have eight above-ground and two underground floors intended for parking with a capacity of 230 parking spaces. There is also a bicycle storage room and facilities for cyclists, including showers. The architectural concept includes, among other things, green terraces, flexibly usable offices with plenty of daylight and a representative entrance lobby. The average estimated annual primary energy consumption will be 50% lower than the Czech standard for the energy performance of new buildings. This exceptionally high energy efficiency is ensured, among other things, by the use of geothermal energy and heat pumps. The buildings will also be equipped with intelligent LED lighting that positively influences the circadian rhythm, contactless access, advanced waste recycling and gentle rainwater management. The location of the buildings is also unique - in the countryside right on the banks of the Vltava River and overlooking Prague Castle. Karlín is a dynamically developing Prague district with very good infrastructure and accessibility. The local restaurants, cafes and easy connection to the bike path and the pedestrian promenade further increase the attractiveness of the whole project.
Source:// CA IMMO