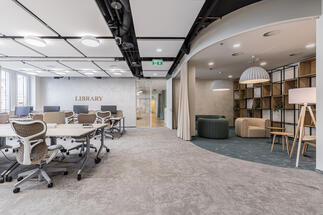 The end of this year will be marked by the gradual return of employees back to the offices
According to a recent CBRE survey of 130 companies operating in the EMEA region (includes Europe, including the Czech Republic, the Middle East and Africa), about 65% of companies currently have all their branches in operation, but more than half still regulate the number of employees present in offices. However, the differences are evident according to the field and the size of the companies. The results of the survey show that around 60% of small companies with up to 100 employees already allow access to the workplace for all their employees, compared to 24% of medium-sized companies (up to 10,000 employees) and 11% of large companies (over 10,000 people). Given the favorable development of the epidemiological situation, more than half of the surveyed companies (57%) expect employees to return to the workplace by the end of this year. In contrast, about a fifth of companies do not yet have a fixed deadline for reopening offices, and only about 15% of respondents report a stable return to normal.
"As for the future use of offices, 28% of companies expect that the size of their leased space will not change significantly in the future. Roughly a third of respondents even anticipate the need to increase office capacity, of which 9% by more than a third. On the contrary, four out of ten companies are considering reducing office space, although only 5% more, "comments Simon Orr, head of CBRE's office sector, adding:" We expect offices to be more user-oriented in the near future. Flexibility, the quality of the environment and the use of modern technologies will play a key role - whether it is video conferencing equipment, air quality and occupancy sensors, intelligent building control systems, mobile applications or contactless technologies. "

Companies want to focus on areas that may have suffered during the pandemic. Leads teamwork
With the gradual return to offices, several key areas are emerging that companies want to focus on in the near future. In principle, it is about supporting teamwork (stated by 81% of respondents), a greater degree of employee involvement in the company (50%), building a corporate culture (39%) and retaining employees (36%). All these areas, among other things, require a reassessment of existing ways of organizing work and leading people, as well as adjusting the appearance and functioning of real workplaces.
The experience of Czech employees with teleworking after a year with a pandemic: flexibility plays a key role
The pandemic has shown that many employees can be productive outside the four walls of the office. At the same time, it revealed a key transformation of the modern workforce, which values ​​the newly acquired opportunities to freely balance their professional and personal lives. The Work from Home Survey conducted by CBRE in 8 countries in Central and Southern Europe, including the Czech Republic, shows that almost half of the respondents (48%) would prefer a combination of working from home with working in the office. When working from home, people often appreciate more control over the organization of their own work and a better work-life balance. Some also feel more responsible for the results achieved and that they are improving in catching up on specific tasks and in evaluating work priorities. On the contrary - when working in an office, respondents most appreciate the social interaction they lack at home. The problems that employees encountered during the pandemic include a lower level of communication with colleagues and clients, detachment from the team or less interaction with a superior. In many cases, simpler and faster information transfer, usually better comfort (from the size of the office to an ergonomic chair or a computer with a large monitor), more intensive building of corporate culture and better access to technology also play in favor of working from the office. And last but not least, natural socialization and regeneration during joint lunches, coffee breaks and small casual meetings - at home you can hardly hear anything from colleagues at the next table, which can bring you to an interesting idea!
When returning to offices, employees expect greater flexibility and a better working environment
"According to our survey, employees who are gradually returning to offices would appreciate if their employers put more effort into building a healthy corporate culture. And also the creation of a safe and sustainable workplace that induces physical and mental well-being. These factors can be expected, among other things, to be reflected in the increased interest in the certification of the indoor environment of WELL buildings, "says Simon Orr, adding:" The most important area mentioned by almost 90% of employees is flexibility. That is why employers are increasingly addressing the layout of their HR strategies as well - so that they correspond exactly to the company's focus and the needs of their employees. "
Offices remain the main place for cultivating relationships, passing on values ​​and experiences
Only good relationships in the workplace are the basis of well-functioning teams. So while companies perceive employees' growing interest in more freedom in organizing their own work, on the other hand, they want their people to remain productive and interconnected. For some, due to the size of the company or the field of business, this will mean the full return of employees back to the offices, others will give their employees more freedom and lean towards a hybrid model of work.
In principle, three basic approaches of companies are possible:
· The primary workplace is the office (preferred by 15% of companies): Companies that choose this model consider the personal presence of employees in the office to be essential for their operation and culture. It allows for remote work rather exceptionally.
· Combination of office work with teleworking (preferred by 79% of companies): This approach is preferred by companies that expect a reasonable balance between teleworking and time spent in the office so that employees are sufficiently involved in team activities.
· Predominant teleworking (reported by 1% of companies): The approach of organizations that found the recent "experiment" so effective that they raised work from home to a new standard. They will still keep at least part of the office space for solving tasks requiring personal cooperation.

Hybrid work is nothing new, but a massive trend
Initially, it was perceived as a phenomenon that causes a significant outflow of tenants from administrative centers. However, the reality is different. Some companies may choose to diversify their portfolios more, for example through greater use of coworking spaces (as an alternative way of testing occupancy or a more diverse work environment for employees), but in general, the emerging trend of hybrid work will only change the way offices are used.
"Traditional workplaces have been static and universal for too long. This is despite the fact that our working days are full of dynamically changing activities. The first positive signal that the coronavirus pandemic has brought is the general consensus among employers and employees that different types of work are best done in different types of premises. Secondly, the quality of home workplace equipment has increased significantly in recent months, and in addition, the necessary infrastructure is available to support teleworking. I can only recommend companies that decide to switch to a hybrid model of work to involve their employees in the decision and communicate consistently about the new principles in the workplace, "says Filip Muška, CBRE work environment specialist.
For a successful transition to a hybrid model of work, it is necessary to take into account three key areas, which will then be reflected not only in the size of the leased space, but also in the way they are arranged and also in the design:
· What will be the rate of use of the workplace: monitor how many people are in the workplace on each working day and what spaces are most interested in.
· What your employees think: organize a survey among employees to find out what they need most in the office. Ask how often they go to the office, how regularly they would actually like to go to the office, and what challenges they face when working remotely.
· Don't forget the maximum occupancy of the space: also prepare for the days when the personal presence of most employees will be required.
"The hybrid work model is mostly associated with the introduction of shared jobs. More and more conservative companies such as banks, insurance companies and state-owned enterprises are turning to it more and more often. At the same time, a year ago, something similar would have been almost unthinkable. At present, the perception and role of offices are changing, so that they are gradually becoming a place that should primarily connect individual people and teams. Employers should think about how and why the employees of the office will use it and what will help them to make the time spent here as efficient as possible and to involve individuals in the company's activities, "describes Filip Muška.
Companies have a choice of three main approaches to designing modern workplaces:
· Activity-based workspace: Employees divide their work time between home and office, engaging in individual and team activities. They use different parts of the office according to their current needs - whether they are places for concentrated work, a meeting room, a telephone booth or, for example, a rest area for informal meetings.
· Team-based workplaces: Employees divide their time between home and office, but come to the office primarily to work with their team on a specific task or project. Plenty of meeting rooms or creative zones are essential.
· Workspace primarily for meetings (event-based work): Employees do most of their work at home and go to the office mainly for scheduled meetings. The space is used both for cooperation within the company and with business partners and clients. People spend most of their time in creative meetings, but also in socialization and education, which corresponds to the appropriate space design.