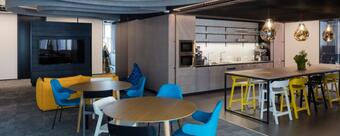 Before the start of the pandemic, the occupancy of space at HubHub was at 70 percent. "It was a better standard on the market, in 2019 the domestic market was in a gradual growth phase," explains Filip Valusiak, Head of HubHub, noting that the first wave of anti-pandemic measures reduced occupancy to 50 percent.
At the same time, however, Czech companies tried out an unprecedented scope of working from home for selected positions, and this method gradually became the norm in a large part of them. During 2021, the demand for flexible offices began to increase significantly.
"Of course, the pandemic hit us negatively at first, but at the same time it changed the way people and businesses think, and that ultimately benefits the entire flexible office space. We are now at 100 percent occupancy, except for the reserve, so that we are still flexible and able to respond to the changing demands of clients," explains Filip Valusiak.
The services are increasingly used by larger companies
The typical client of coworking spaces is not startups, as it was in the past, but mainly larger companies that value flexibility. The increased demand for shared offices is mainly due to the hybrid work style, which more and more companies are leaning towards. In positions where the nature of the work allows, employees from company offices only work part of the week, and the rest of the days are mostly from home.
"Companies pay for a rotating work model where they have, for example, offices with ten seats for their 20 employees. At the same time, however, they have access to all services, access to meetings when the whole team needs to meet," adds Filip Valusiak.
Multinational corporations are also beginning to discover the benefits of shared offices. "With the sight of rising energy prices, large companies are thinking about where to save. Half-empty offices, which have become standard in many companies after the pandemic, seem significantly different in the current situation than in the times of cheap energy. Excessively large offices are one of the fixed costs that can be optimized and bring significant savings in the long term," concludes Filip Valusiak, adding that the demand from large companies has increased several times this year compared to 2019.