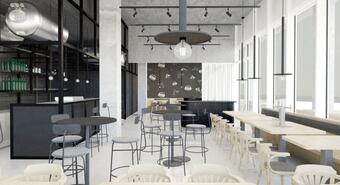 The unique Czech gastronomic concept The PUB Pilsner Unique Bar with its international presence will open its The PUB Prague 4 in the Parkview building in Pankrác in spring 2020. The restaurant will offer honest cuisine with a very attractive offer of midday meals, perfectly treated Pilsner Urquell tank beer and unique tables. a system of self-service beer taps with touch terminals to electronically order food, drink and also favorite music.
The PUB
In a modern interior designed by SOA architects, there will be a partially open kitchen, four actively cooled beer tanks with a capacity of up to 4,000 beers, a lounge for 20 people and a pleasant garden surrounded by greenery in the summer season.
"The gastronomic services offered in modern office complexes have developed greatly in recent years, be it a range of offerings, food quality or interior design. We are pleased to offer Park Gadget an interesting gastroconcept in collaboration with The PUB, based on honest craftsmanship, tasty dishes and a stylish ambience. I believe that it will be appreciated not only by tenants, but also by the inhabitants of Pankrác, "says Alexandra Tomášková, director of Skanska Property .
"The PUB gourmet chain has been choosing premium locations for its new branches in recent years, where quality architecture and an experienced operator meet, and the case of Parkview in Pankrác is undoubtedly!We look forward to expanding our services in this area and working with our new franchisee , " adds Martin Šampalík, Managing Director of The PUB Franchising sro
Parkview
Skanska's Pankrac project, Parkview, is being built in Pujmanova Street, Prague 4, opposite Pankrac Central Park. The nine-storey building was built by the New York-based architectural studio Richard Meier & Partners and, after its completion in the second quarter of 2020, will offer almost 16,000 m2 of top-class offices . A quarter of the building, almost 4,000 square meters, was already leased by IWG for its Spaces coworking center.
Parkview - Prague
Parkview is particularly impressive with its clean white façade and airy recessed green atrium that will serve both tenants and visitors to meet and relax. With a U-shaped floor plan and glass facade panels, Parkview offices will have almost 100% natural light for most of the day .
Skanska builds Parkview so that the building will acquire both LEED Platinum's highest environmental certification for its economical operation and minimal environmental impact, as well as a WELL rating that recognizes a quality and healthy working environment for tenants.
At the same time, Parkview is designed as a smart building where the digitization of its design and construction process in the BIM system will facilitate its subsequent operation. For tenants, the developer is preparing the Connected by Skanska system , which, in a specially developed application, provides efficient and easy access to the building, including the parking system, and brings together all services in the building and its surroundings.
Source / photo: www.retrend.cz / Skanska as