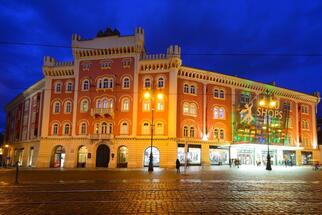 "We are extremely pleased to have advised Union Investment in such a landmark and strategically important acquisition. 2015 is set to be strong in shopping centre investment in the Czech Republic, with several large deals that originated in 2014 closing in the next few months, and further assets coming to the market later this year. Including Palladium, we currently register over EUR 1 bln of shopping centre investments for 2015 (deals either closed, in negotiations, on the market or in preparation). This would be more than three times the 2014 shopping centre volumes", Katarína Brydone, Associate Director of Capital Markets for CBRE said.
 "Palladium was on all of the major investor radars for a long time, which only confirms Palladium to be a highly lucrative asset. We were pleased to represent Union on this prestigious transaction", Jeff Alson Head of Capital Markets for CBRE added.
With Investments of this scale and nature comes a huge responsibility. In addition, the transaction was conducted in an extremely short timeframe. CBRE has recognized this by ensuring that it has a strong team of field specialists with established track records who combined, are able to advice across all the required disciplines.
CBRE Group, Inc. (NYSE:CBG), a Fortune 500 and S&P 500 company headquartered in Los Angeles, is the world's largest commercial real estate services and investment firm (in terms of 2014 revenue).  The Company has more than 52,000 employees (excluding affiliates), and serves real estate owners, investors and occupiers through more than 370 offices (excluding affiliates) worldwide. CBRE offers strategic advice and execution for property sales and leasing; corporate services; property, facilities and