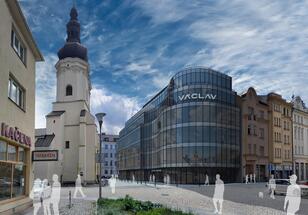 In November 2022, preparatory work and an archaeological survey were started on the residential and office project "Multifunctional building VÁCLAV". The first stage also includes the relocation of public lighting and water management structures. Construction of the building itself should begin in 2024. The expected completion date of the project is 2026.
"The multi-functional house is a modern building complementing the city block in the heart of Ostrava's historic core. It is located in close proximity to the central Masaryk Square and the oldest Ostrava Church of St. Wenceslas. The mass of the building sensitively respects the main entrance of the church," Jan Hasík, executive director of the ANTRACIT developer group, describes the prestigious location.
The project "Multifunctional House VÁCLAV" on Kostelní náměstí in the center of Ostrava will offer 16 residential units on a total area of ​​1,333 m2 including 76 parking spaces, premium office space on a total area of ​​2,492 m2 and commercial premises on a total area of ​​599 m2.
"Regarding the surrounding development, the entire multifunctional building will be divided into smaller and height-graded parts so that its appearance corresponds to the natural diversity of the surrounding development in the city center," adds Tomáš Kosa, vice chairman of the board of the construction company HSF System.
Proluka on Kostelní náměstí in the center of Ostrava is a core area that is intended for residential or administrative buildings or spaces intended for civic amenities. The multi-functional building will be built on the site created by the rehabilitation of the original town houses and will be connected to the existing and proposed infrastructure.
The developer of the project "Polyfunctional House VÁCLAV" is the Czech-Slovak group ANTRACIT. The general contractor of the currently implemented stage is the construction company HSF System. ARKOS s.r.o. is behind the architectural design of the multifunctional building. Information about the project is available on the website www.vaclav-ostrava.eu.