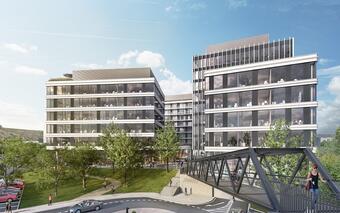 According to a recent analysis by the consulting company BNP Paribas Real Estate, developers and financing banks are encouraging the current parameters of the office market. The rent remains stable with the highest level reached up to 23 EUR / m2 in the center of Prague. Vacancy rose only slightly to 7.8%. And in Q2, the realized demand expressed by lease agreements (including renegotiations) was 8% higher than a year ago.
"The fact that many employees have not yet returned to normal operations has not changed anything about the activity. Most companies are considering the permanent introduction of telework, including hotdesking or various forms of coworking, "summarizes Kamila Breen, head of consulting and market research at BNP Paribas Real Estate.
The second quarter did not bring any leases that would protrude from the long-term average. Rather, a larger number of medium and smaller rental transactions took place. On the tenants' side, the new contracts were dominated by companies in the field of consulting and consumer goods. The 10% share of the public sector is worth attention. This represents, for example, the lease of 3,700 m2 in the Václavské náměstí 42 office building by the Ministry of Industry and Trade or the Institute of Chemical Technology, which leased 3,200 m2 in the Jankovcova 23 building in Prague 7.
"We expect the public sector to be increasingly among the demands. This is partly due to the fact that the new office buildings also represent a sustainable standard of operation. And many organizations or offices are located in completely unsuitable premises, which can be an obstacle for the recruitment of new employees, "believes Lena Popova, head of office rental at BNP Paribas Real Estate.
The quality and safety of the environment is important for tenants. And the developers meet her. This is one of the reasons why two new buildings in the River City Prague complex in Karlín, Mississippi House (13,380 m2) and Missouri Park (7,370 m2), received WELL Core & Shell and WELL Helth & Safety Rating certificates in addition to LEED Platinum eco-certification. anti-pandemic measures.