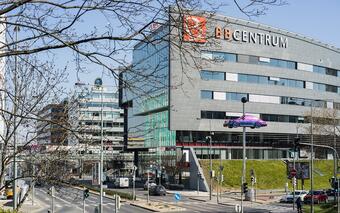 The company bikero.cz, founded by a group of sports enthusiasts, has developed into a leading brand for the sale of bicycles and sports equipment in the Czech Republic since its launch in 2015. It offers quality cycling and skiing equipment, advanced technology, and top service for the perfect sports experience. The season never ends with a biker, just change your bike and go to another terrain.
"At our new address in the BB Center, customers can look forward to a selection of branded bikes such as BMC, Focus Mondraker, CTM, Autor, and many more. There will also be a selection of Woom and Kubikes children's bikes at the branch, as well as quality service from smiling professional staff who will be happy to advise you. BB Centrum is sympathetic to us for its size and perfect background, and we are very much looking forward to becoming part of this unique living organism," says Martin Kudrna, director of the biker.
Building B has a total office area of ​​15,600 m2 on 8 floors and retail areas of 1,240 m2. After an extensive reconstruction completed in June last year, it has become one of the category A administrative buildings. It offers a walk-through atrium with water features, greenery, and benches connected to a new public space, Ellen G. White Square. The last two commercial units remain for rent in Building B, one with an area of ​​92 m2 situated also on Vyskočilova Street and another with an area of ​​240 m2 with an entrance from Želetavská Street.
BB Centrum
BB Centrum in Prague 4, which covers an area of ​​25 hectares, is one of the largest and most successful projects of its kind in Central Europe in terms of developments built by a single investor. The Passerinvest Group has been building and developing BB Centrum on the basis of the principles of quality urban planning and long-term sustainability since 1998.
Passerinvest - BB Centrum, Prague
BB Centrum has grown with its scope and number of users into a practically independent city district providing a complete range of opportunities and services, both in the commercial and social spheres. With the represented services and responsible urbanism, it naturally follows the surrounding life, when by rationally chosen recycling of the city, it removes the already forgotten obstacles to the impenetrability and the original poor quality of the place.
About Passerinvest Group
Passerinvest Group, a. S., is a purely Czech investment and development company founded and managed by Radim Passer. Passerinvest Group considers it its social responsibility to act as a professional as well as a social authority both in the role of a long-term partner of the city with the aim of transforming the often unhappy territory into a pleasant and user-friendly location. The Czech Republic through transport initiation or education in the field of health and human values.
As a responsible urban developer, Passerinvest Group has been associated since 1998 mainly with the BB Center in Prague 4, which is one of the largest and most successful urban projects not only in the Czech Republic but in the whole of Europe.
Another significant project in the Passerinvest Group's portfolio is Nové Roztyly. The current brownfield of the former Interlov complex, where in the future a place with pleasant living with a large proportion of greenery should be created, supplemented by services to the general public and an administrative function. In addition to projects in Prague, the company has built and owns the Ostrava administrative building Nová Karolina Park.
The principles of urban construction and the long-term sustainable development of Prague and the Czech Republic are part of the vision of the Passerinvest Group, which has built a very good reputation both domestically and internationally thanks to its responsible approach. This is due not only to the quality of implemented projects and the high level of services provided but also to the sense of fair play, customer approach, and especially the responsibility to society and the environment.
Source:// Retrend