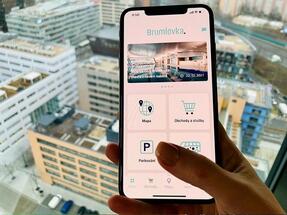 Mobile app: Everything all in one place, from parking to dance lessons
The app is not only suitable for users who live and work here, but also for everybody who visits or is planning to visit this locality. The app's home screen offers icons that simply guide users to what they are looking for – Map, Parking, Shops and services, Timetables, Cultural and sporting events, Daily menu, News, Rentals. The app can be used freely even without registration. When users register, they get additional options, such as current information directly from the building in which they work, planned events, etc. The app is currently available now for the IOS (Apple) and Android (Google Play) operating systems.
"The Brumlovka app is another practical addition for the faster and clearer sharing of information. Brumlovka offers a wide range of services for people who work and live here and this communication platform was missing. The summer season is approaching, bringing a number of interesting events to Brumlovka and, thanks to the app, it is easy to keep track of them. The location map will advise you on the offer of shops, where to park, where to spend time with children or where to go for sports. The Timetables section is also popular. It clearly informs in how many minutes the bus and shuttle services of Brumlovka leave from the individual stops in the location and from metro C Budějovická," explained Kristýna Samková, Head of Marketing and PR, Passerinvest Group, a.s.
The modernized website brumlovka.cz is in line with the newly-created visual identity of the brand stylised into blue and green colours. The blue colour represents Passerinvest, indicating trust, security, a personal approach, stability and long-term sustainability. The green colour represents Brumlovka, symbolising cleanliness, greenery and positive communication. The element of dots, which more closely connects Passerinvest and Brumlovka, appears in the visual of both brands.