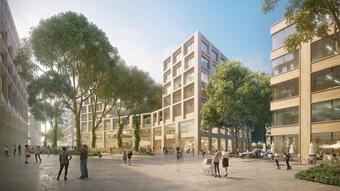 Interconnection of different systems
Building automation is essentially nothing more than the optimal interconnection of existing or designed systems in a building so that they create optimal conditions for users and at the same time use energy efficiently without human intervention. "Imagine this in a simple example of a larger family house. Automation controls, for example, air quality and triggers ventilation to replace it. If a window opens in a room, the window contact gives information to the control system and does not heat or cool in the room. This saves energy. and financial resources," explains Roman Vacek, Wago's automation manager.
According to him, today there is no modern office building, hotel or production and storage hall, where we would not find at least basic automation systems. At the same time, automation is also gradually occurring in smaller buildings or family houses. "This is caused by the trend of today, when people want to have everything under control from their own mobile phone. The fact that the price of automation is becoming more and more affordable compared to the price of real estate also plays a role," says Roman Vacek.
Each building requires a different level of automation. Large operational and industrial buildings need efficient heat or cold distribution and very robust control. At the same time, they need quick responses in the event of emergencies or critical situations.
The cheapest is not usually the best
While from a technological point of view we keep pace with Western countries, what hinders the development of automation in the Czech Republic are generally the ideas and requirements of developers. "In Western Europe, building automation investors and developers are more open. They routinely build smart and smart buildings with a high degree of automation, not only in the private but also in the public sector. They realize that such solutions provide not only comfort for users, but also large savings in operating costs in the long term," believes Zachoval. "In the Czech Republic, the development method of construction of office and residential buildings prevails with regard to faster profitability. During construction, the cheapest solutions are selected, which, however, may not meet certain requirements. Because buildings often change owners, even after two years of operation, long-term savings are not the main criterion," he adds.
In terms of automation, Zachoval distinguishes between several types of clients who are affected by building technology. They are users, tenants and administrators. "Users require maximum comfort, safety and control according to their own preferences. Tenants follow trends and try to make the most of optimization to reduce energy consumption. Administrators then require maximum automation of operational processes, the possibility of partial adjustments and self-regulation of operations," outlines Zachoval.
According to Roman Vacek, the main trend today is the pressure on a healthy environment. "We spend up to 80 percent of our time inside buildings. That's why we need to control and monitor thermal comfort, lighting conditions or carbon dioxide in the air. Artificial intelligence is also used to analyze measured data and detect anomalies or optimize energy efficiency in a timely manner," he added.
Space optimization
The main theme of this year - the coronavirus pandemic - will certainly play a role in building automation. "We are seeing greater interest in technologies for measuring the temperature of entrants, keeping the gap when filling jobs, the possibility of tracing the people present for a possible evaluation of close contact with a person with a positive covid-19," says Radek Zachoval of Siemens. "Given the current situation, it must also be possible to react immediately to changes in land use, depending on current regulations," he added.
The experience of architects also proves that it pays not to skimp on building automation. "Many automated buildings have the same lifespan as their technology or programmer," says architect Gabriel Kurtis. "Systems often lack after-sales service. Owners are therefore unhappy after a few years when outdated technology needs to be dug from the ground up. Any change requires a competent programmer. If he leaves, everything will go out. systems that have been in place for some time," adds Kurtis.
Source::// Hospodářské noviny