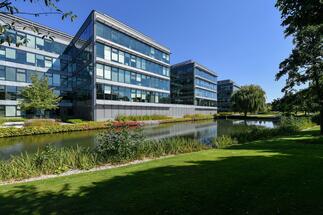 In the first half of the year, Scott.Weber Workspace will operate 12 centers with a total area of over 35,000 m2 and almost 5,000 jobs. The company focuses primarily on private flexible offices, where clients can change the number of workplaces in pre-equipped offices according to current needs and are not bound by contracts for five or seven years as with regular offices. In addition to private offices, Scott.Weber also offers coworking and event spaces, as well as the possibility of setting up a virtual company headquarters.
The Park offers a workspace in the middle of the park
The Park campus is adjacent to the Westfield Chodov shopping center. This is a location conceived as a park. "It's literally a park. The last time a new park was created in Prague was 80 years ago," says Adam Zvada, CEO of Scott.Weber Workspace. The central part of the campus is lined with cafes, restaurants, but also a fitness center, pharmacy, dry cleaning, newsagent and other services. In the natural environment, there are also sports fields for volleyball, golf and other active entertainment. Even the interior spaces are designed in connection with nature, whether they are designer meeting rooms, relaxation zones or coworking spaces. "And it's not just about connecting with nature. We have also prepared unique shared gaming-style places not only for PC game players but also for those who like active PC gaming. They have a golf hitting trainer at their disposal," adds Adam Zvada.
Meeting room on the water and commuting to work by boat
Port7 is in many ways a unique office project that stands out in the Czech Republic. Here, Scott.Weber will offer spaces conceived as a harbor, where the overall impression will be ensured by a large number of apparent design details. The roof terraces with a view of the Holešovice floodplain are also a big advantage. The private terrace will have a bar and will be ideal for hosting corporate and private events. "Companies will be able to book a meeting room directly on the water in the port. And they will also have the opportunity to commute to work on a regular shipping line," says Adam Zvada of Scott.Weber Workspace. A regular shipping line is one of the modes of transportation. Within a radius of 50 meters, people can commute by train, subway, tram, bus and, of course, by car. There is also a newly reconstructed bike path and a running track leading to Stromovka leading to the complex. Athletes can try one of the water sports here, such as paddle boarding. Gastro enthusiasts will have access to a new restaurant concept with experiential cuisine from around the world. There will also be companies operating fitness and wellness services, a kindergarten, a pharmacy and others.
Pleasant offices motivate people to come to work
Most employees only want to commute to work a few days a week. They expect to spend a pleasant day at the office with colleagues. However, employers often differ in their opinions on what such an office work environment should look like. More than half (52%) of the workers consider the space to be unsatisfactory, they mostly lack a place to take breaks and rest. In contrast, 78% of employers believe that their employees are satisfied with office equipment. The Ipsos survey via the Instant Research application was carried out for the company Scott.Weber Workspace further compares the attitudes of employees and employers within the trend of the hybrid work model.1
"Modern-minded bosses are aware of what almost all studies and analyzes say. The productivity of employees increases, or at least does not decrease when they have the possibility of a quick rest in the relaxation zone. Shared design spaces that stimulate creativity also have a positive effect. Unfortunately, some conservative managers think that the space with desks and computers is effectively used and non-work spaces are unnecessary and actually expensive. The opposite is true and more and more companies are realizing it. This change in thinking also comes with generational change and the rise of millennials and Generation Z," explains Adam Zvada from Scott.Weber Workspace.