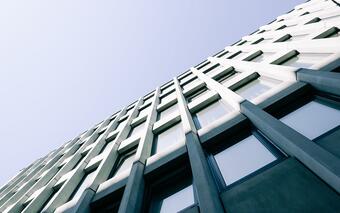 With these completions and no new office projects breaking ground in Q2 2021, the volume of office space in the active construction pipeline declined to 167,300 sqm. The 2021 annual supply is expected to come to 69,300 sqm, making it the lowest annual volume of new office completions since 2016.
The most extensive construction has been underway in the Prague 1 district, thanks to the start of the Masaryčka project in Q1 2021.
Total leasing activity in Prague, comprising both new leases and renewals, amounted to 89,300 sqm in Q2 2021. Although almost identical to the previous quarter's 90,200 sqm and 27% below the pre-pandemic quarterly average, Q2 gross take-up was up by 14% y-o-y. On a half-yearly basis, H1 2021 gross take-up totalled 179,500 sqm, up by 21% y-o-y and only 3% down on H2 2020. This indicates a slow gradual return to pre-pandemic levels of activity.
Net take-up volumes improved on the previous quarter, with 49,100 sqm of signed deals, but remain below pre-pandemic levels. Q2 2021 net demand was up by 11% compared to the same period in 2020, however, the cumulative net demand registered in H1 2021 was still 3,000 sqm below H1 2020 results and 30% below H1 2019. Year-on-year, net demand decreased by 3%, but increased by 34% compared to H2 2020.
The share of renegotiations on the total leasing activity continued to decrease, standing at 37% in Q2 2021 which translates into 33,000 sqm of the total transaction volume. The share of subleases increased from 4% in Q1 2021 to 8% in Q2 and reached 7,100 sqm.
Since the end of 2020, the vacancy rate has continued to increase and reached 7.8% at the end of June 2021; a 170 bps increase y-o-y. The vacancy rate recorded in Q2 2021 was at a four-year high, with 291,400 sqm of office space immediately available for rent across the city.
The premises offered for sublease totalled 65,000 sqm, indicating a 14% q-o-q decrease. Combining these premises with the official vacant office space would mean that the vacancy rate is 9.55%, which would be the highest since the end of 2016.
The highest volume of immediately available space can be found in Prague 4 (70,900 sqm). However, thanks to the significant size of this submarket, the vacancy rate has not exceeded 7.3% and is still 50 bps below the city average. The highest share of unoccupied offices was recorded in the Prague 5 district, where the vacancy rate stands at 9% (representing 57,300 sqm of available space). The highest occupancy levels can be found in Prague 2 where, with 5,900 sqm of available space, the vacancy rate fell to 4.4% (from 6.2% in Q1).
Pavel Novák, Head of Office Agency, Savills CZ&SK, says: "Assuming a positive recovery from the pandemic, we expect the second half of the year to be marked by a return of the office market, including larger companies that have so far not been active. We are currently registering an increase in interest that may also be related to the deferred need from the first half of this year. A gap is also opening up between Prague submarkets. In some (micro-)locations it is difficult to find offices even now, demand exceeds supply and there may be some overheating in the future, e.g. in Karlín. However, some more peripheral locations remain behind the curve and rent is stagnating or in some cases even slightly declining."