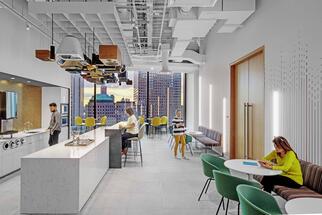 To a much greater extent than before, companies have discovered the magic of coworking and home offices. "As a result of coronavirus, this principle has been adopted by conservative companies, which until now required their people to have a daily physical presence in the workplace. In many cases, they divided their employees into teams that took turns at the home office, and kept mutual meetings to a minimum. And this, of course, has far-reaching implications for the need for office space and its equipment. They are gradually adapting to the new situation," emphasized Simon Kalvod, Executive Director of the Czech Green Building Council.
"Places for individual work are being pushed out by spaces for cooperation and communication. If we accept the fact that the office will never be safer from the point of view of infection, it makes sense to adapt it to the type of work that is the hardest at a distance, ie various creative collaborations, socializations, mentoring, etc.," said CBRE's head of job strategy. Filip Muška.
The time has come to reduce seats for modern offices.
It therefore recommends that the saved space, after the reduction of working station, be used to increase the number of these zones and to widen the distances between spaces intended for long-term concentrated work.
The share of small meeting rooms with a capacity of up to six people is also growing, while large conference rooms are being abandoned, which often inefficiently take up space in office buildings and are used at full capacity only a few times a year.
"It is common for larger company-wide meetings to use, for example, a business lounge - a common zone that combines the function of the kitchen, informal seating, relaxation and today creates the heart of the company, where employees meet across positions and functions, can quickly and informally solve work problems. due to which they would otherwise meet at the agreed times, they can spend quality time outside the open plan or solve a phone call that would otherwise disturb other colleagues in the workplace," added the director of consulting for jobs at the Czech branch of Colliers International. Jana Vlková.
Covid also started a much higher interest in a healthy indoor office environment
Along with the demands for increased hygiene in offices, companies have become much more aware of the need for a healthy indoor environment from other perspectives than just the spread of the disease. They pay more attention to the supply of quality fresh air to the offices.
"Currently, we recommend to tenants and building owners to limit the operation of rotary recuperators, ie equipment for heat recovery from exhaust air. This is because waste air can be mixed with fresh air and potentially contaminated," added Jan Jurčíček, head of building and project consultants at Savills.
In air conditioning, it is also necessary to change filters much more frequently with regard to infection and, where possible, to install those with activated carbon to destroy microbial and viral particles.
Of course, there are strict rules for cleaning, its higher frequency and the introduction of regular disinfection of selected areas. Cloth towels and tea towels were no longer used in kitchens and toilets and were replaced by disposable ones. Disinfection containers are a matter of course for modern offices. The company's emphasis is also on educating employees to not only observe personal hygiene, but also, for example, to clean used dishes from the space one after the other so as to minimize the risk of virus transmission. The clean desk policy has received a completely different impetus and importance due to coronavirus.
The emphasis on a healthy indoor office environment is now more relevant than ever. It is necessary not only quality ventilation and air conditioning, or openable windows, but the correct use of greenery in offices, quality natural materials that are part of the equipment of the premises, the correct use of colors, but also good acoustic and lighting solutions that contribute to the well-being of employees.
About the Czech Green Building Council
The Czech Green Building Council (CZGBC) brings together companies and organizations in the field of green construction: from designers, architects to suppliers of materials and technologies to construction companies and developers. It wants to encourage the domestic market to transform the ways in which buildings and urban units are designed, built, renovated and operated.
The aim is to create a healthy, prosperous, ecological and socially friendly environment with a higher quality of life. Since its inception in 2009, it has worked closely with a global umbrella organization, the World Green Building Council, which brings together over 90 countries. It currently has more than 80 members.
Source:// Retrend