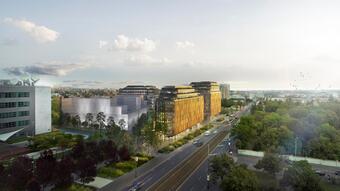 "In order to start building a project as large as Hagibor, we thought it would be a good idea to share the risk with another company, which can also bring a variety of companies as potential tenants. That is why we have agreed a partnership with EP Real Estate for the first phase of the office space, which comprises two office buildings, "says Crestyl CEO Omar Koleilat.
Construction of the first stage is scheduled to begin this year. Investors estimate completion by 2023. The project is located in Vinohradská třída in the immediate vicinity of Radio Free Europe.
Each of the partners participates half in the first part of the project. "The EP has great ambitions in real estate and the partnership in the case of Hagibor̵.
The first office phase is also a potential step towards further collaboration on other investments," added the Crestyl boss.
The new district on Hagibor near the Želivského metro station will include not only offices, but also apartments and services. The new face of the site will come from the architects Bogle Architects and Ian Bryan Architects. The French landscape painter Michel Desvigne is also involved in the project.
Crestyl estimates the total investment in the project at nine billion crowns.
Source:// Seznam zprávy