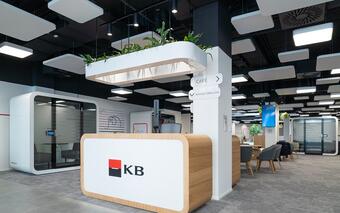 The world has changed significantly in the last two years, and with it the customers and their needs. Therefore, Komerční banka came up with a new unique concept for its branches, which builds on non-traditional design and technologies. "The change in the branch concept is not just about their appearance, it goes much deeper and brings a completely different view of banking advice. We are on the threshold of a branch revolution, "says Marek Vosátka, Executive Director for Retail Banking at Komerční banka.
New design and new service model
Komerční banka applies a new service model within the modified branches, which, in addition to the classic advisory service, now also brings assisted sales. For example, the standard ATM will not only be able to insert coins, but also to change paper banknotes into small coins. This was provided for clients by Komerční banka as the only financial institution in the country so far.
"We are aware that in today's digitized world, where our clients can easily control their finances online, they expect advice at the branches in particular," explains Alexandr Savko, director of the KB branch in Prague's Dejvice.
It was the first to undergo extensive reconstruction. "The new branch concept emphasizes enough space, both physical and time, for quality advice. And at the Dejvice branch, it turns out that this model is welcomed by clients. In the coming months, we will reconstruct three more branches in Prague in this spirit, "adds Marek Vosátka.
State-of-the-art technology and flexibility
The new design of Komerční banka's branches is based on sustainable technologies not only in equipment, but also in lighting, energy and water consumption, etc.
"Our goal was to create a space where clients will be happy to go for advice, where they will be comfortable. The materials and colors and the overall very flexible tuning of the branch correspond to this, "added Marek Vosátka. The new branch offers many opportunities for meetings, we will find both larger spaces for more people and very discreet places for personal meetings.
Studio Reaktor is behind the new design of Komerční banka's branches. The complete reconstruction of the branch in Dejvická Street did not take even a year. According to the new concept, Komerční banka will rebuild up to 80 of its key branches by 2026.