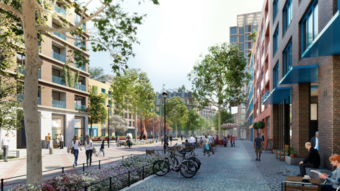 The urban design of the district was developed by the studio of architect Jakub Cigler. According to him, the plan envisages the construction of buildings with six to eight floors and semi-closed blocks, which will partially use the original structure of the buildings. This will make it possible to work with current greenery, which is quite a lot on unused land. "The greenery will be further expanded with a central park, which is actually the heart of the whole proposal," added the architect. Prague plans to build two primary schools, a new tram line and improve the transport infrastructure in the new district. The proposal also includes five kindergartens.
The modernization of the railway line to Mladá Boleslav, which is planned by the Railway Administration (SŽ), is supposed to be key to traffic service. According to the director of the construction preparation department of SŽ Pavel Paidar, a plan is being prepared for the modernization and double-tracking of the railway section from Rajská Zahrady to the outskirts of Prague in Třeboradice, which also includes the reconstruction of the Čakovice railway station. Several new stops are to be created in the section. In the future, SŽ is preparing to modernize the line up to Mladá Boleslav and is examining the construction of a high-speed railway to Liberec.
Other investors are also planning other large brownfield projects in the metropolis. In 2020, the Sekyra Group started construction of a new district in Smíchov, which is also planning a similar project on Rohanské ostrov in Prague 8. The area of ​​the Žižkov Freight Station is also awaiting major construction, where companies such as Central Group, Sekyra Group and Penta Real Estate are planning to build. Construction is also planned in the Bubny-Zátory development area, where, according to a city study, up to 25,000 people are expected to live in the future. Other brownfields are located in Vysočany, Hloubětín or in the area of ​​Bohdalka and Slatin.
According to its website, Saran founded the real estate and investment company Odien in 2004. In addition to real estate and development, it deals with investments and energy and employs over 500 people in the Czech Republic, Croatia and Turkey. In 2004, according to Saran, the company bought the summer Avia from the Korean group Daewoo, then capitalized it, and in 2007 sold the production part to the Indian company Ashok Leyland Motors.