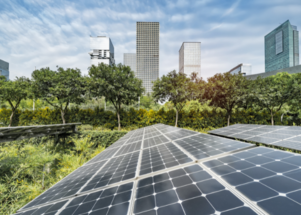 Certified properties in Prague have a 3% lower vacancy rate
The vacancy rate, or the interaction between supply and demand, is considered one of the most important factors in the commercial real estate sector, which reflects the real market situation and, among other things, affects the level of rent. "Location remains the main criterion for most companies when choosing new offices. However, our analysis, which follows a trend of more than three years, clearly shows a lower vacancy rate for certified office buildings. Specifically, at the end of the first half of this year, the average vacancy rate of certified buildings across Europe was 6.1%, while for non-certified buildings it was 7.9%," comments Jiří Stránský, head of the sustainability team at CBRE.
The biggest gap in the performance of the two types of properties can be seen in Romania, where a gap of up to 20% between certified and non-certified buildings in favor of sustainable ones could be observed. It was followed by London and Lisbon, where this difference represented 9%. "Prague is more balanced in this respect, but even so, certified real estate here achieves a better occupancy level of about 3%," Jiří Stránský states, explaining: "The domestic metropolis has one of the highest shares of sustainable buildings on the old continent. Similar to Bratislava, Warsaw, Amsterdam or Stockholm, they occupy over 40% of the market here, while the European standard is around 20%." there is more: these are relatively young markets, where modern office construction began only a few decades ago. In addition, development activity and the related competition are relatively strong here, and property owners are willing to additionally certify existing buildings as well. "In any case, globally, it can be expected that together with the growing level of corporate social responsibility and efforts to reduce the energy efficiency of buildings, there will be a further increase in the difference between the vacancy rate of certified and non-certified buildings," describes Stránský.
Owners of certified real estate in Prague can claim 18% more rent
The study sample consisted of 7,500 leases in certified buildings and 37,000 contracts in non-certified buildings, making it the most extensive survey of office leases on the European continent to date. After a thorough analysis, during which all variables such as the size of the property and its age or location were taken into account, CBRE showed that the average rent in sustainable buildings is 5.5% higher than in non-certified buildings. At the same time, the owners of premium real estate choose the most in the Romanian cities of Temešvár (+ 22.5%) and Cluj (+ 22%), but they are followed immediately by Prague with 18%. Madrid, Aarhus, Bucharest and Iasi are also above the +15% mark.
"Another finding that is often asked by clients considering building certification is the conclusion that certified office buildings always incur a rent surcharge regardless of the year of construction. This represents a strong argument for the certification of existing buildings," comments Jiří Stránský and concludes: "There are basically two reasons for tenants to pay higher rents in sustainable buildings. First, the tenants are fully aware that the higher rent will partially compensate them for the lower operating costs – whether it is water or energy consumption. And secondly, there are more and more companies on the market that have sustainability and ESG principles as part of their corporate culture and are therefore willing to pay extra for it.
More on CBRE's analysis
The analysis took place in 18 European countries and 38 cities (in addition to the Czech Republic, Denmark, Finland, France, Italy, Hungary, Germany, the Netherlands, Norway, Poland, Portugal, Austria, Romania, Slovakia, Serbia, Spain, Sweden and Great Britain were also included) , taking into account 44,500 rental contracts concluded from 2019 to the first half of 2022. The most widespread system for assessing sustainable construction and for certifying buildings in these countries is BREEAM, followed by LEED, DGNB, HQE and WELL.