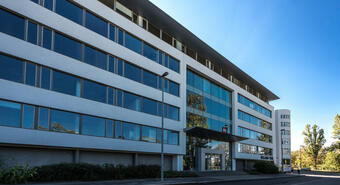 The vacancy rate is at a historic low of around 5%. Most of the offer consists of A-class office properties, but almost one-third of the market is occupied by their alternative in the form of so-called B-areas. The equipment and services provided are still at a high standard, but at the same time these properties guarantee lower rents and quick mediation . For this reason, more and more people are approaching. An example of this is the Nagano Park administrative complex in Prague 3, where the center's occupancy rate has increased by 20% over the past five months.
"Since we bought Nagano Park last October, we have increased its occupancy from 70% to 90%. This makes it clear that if an investor can adapt class B office space to current market trends and requirements, his offer will become attractive to many prestigious companies. Our tenants include CETIN, LEGO Trading, SWIETELSKY, ATC and Gea, " commented Petr Beneš, Director of Geosan Development .
The Nagano Park office complex was built in 1999. The complex includes four office buildings and a data center (also called Telehouse). The building is located in a commercial area of ​​Prague 3 and offers flexible office space with storage space and secure parking with plenty of parking spaces. Services include a shared reception, two restaurants, a free fitness center and a 24-hour property manager.
Source / photo: www.retrend.cz / Crest Communications, as