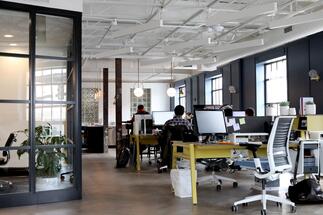 Původem polský co-workingový řetězec Business Linkvstupuje pod záštitou Skanska na český trh. První provozovnu otevře v Praze v červenci tohoto roku, a to v kancelářské budově Visionary v Praze 7. Nabídne přibližně 4 700 m2 prostor pro zhruba stovku lidí, i 159 soukromých kanceláří a pět konferenčních místností.
"Své prostory vytváříme pro nejnáročnější klientelu. To mě naplňuje přesvědčením, že naše kanceláře si zvolí čeští podnikatelé budoucnosti, start-upy i korporace. Do České republiky jsme se rozhodli vstoupit, neboť se jedná o jeden z nejslibnějších evropských trhů s mimořádným potenciálem pro obchodní růst," uvedl Dariusz Żuk, generální ředitel společnosti Business Link.
Business Link si pro své kanceláře vždy vybírá kvalitní lokality, které se nacházejí v rozvíjejících se čtvrtích a na dopravních uzlech, tak aby byly dobře dostupné i veřejnou dopravou. Součástí prostorů jsou i odpočinkové zóny, kuchyňky či prvky, jako jsou lezecké stěny nebo sauny. Pod pražským prostorem je podepsáno architektonické studio Jakub Cígler Architekti.
Na polském trhu má společnost Business Link patnáct provozoven, k jeho klientům patří dosud například Uber, Brand24 nebo Groupon. Vstup na český trh je začátkem její zahraniční expanze. "V příštích dvou letech otevře Business Link devět nových provozoven o celkové ploše 30 000 – 40 000 metrů čtverečních ve městech, jako jsou Budapešť a Bukurešť," doplnil Jarosław Bator, ředitel obchodního rozvoje společnosti Skanska a provozní ředitel společnosti Business Link.
Co-workingové prostory jsou již na českém trhu dobře známé. Využívají je především malé firmy, start-upy a podnikatelé na volné noze. V Praze, Brně a Ostravě funguje například Impact Hub, který má po světě celkem 89 center. V Praze je dále možné využít prostor TechSquare, Ateliér Pexeso, Opero, K10, WorkLounge, Node 5 či Paralelní Polis, v Brně funguje Top centrum podnikatelek, Cowo nebo Koplac, v Ostravě Viva. Možnost coworkingu nabízí i České Budějovice (Cowo), Kolín, Tábor (Coworking), Olomouc (Coworking a Vault 42), Opava (LoveCoWork), Liberec (CML), Hradec Králové (Coolworking), Pardubice (DeskRoom), Plzeň (Wo-Co), Ústí nad Labem, Zlín (TIC) nebo Havlíčkův Brod (Hubbr). Možnost klidného pracovního útočiště naleznou zájemci v Retreat v Beskydách.
(source: Mediaguru)