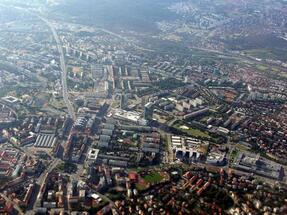 Prague — The recovery of the Czech real estate market has given support to the appetite of developers and the total amount of investment in the construction of new housing projects in Prague is estimated at several tens of billions of crowns.
Among the most exposed locations in Prague are Vysočany, Karlín, Holešovice and Modřany. "Currently, we are monitoring six locations in Vysošany under development with a total land area of several tens of hectares," says Jan Hospodář, Head of Sales & Acquisitions at real estate services and investment firm CBRE.
Many developers revived their interest in multi-phase residential projects, whereas the trend in recent years has been focused on single-phase projects of around 100 residential units.
 "A number of developers are buying development sites where they expect their projects to be developed over 10 to 15 years," Hospodář said. The recovery of developers' investment appetite has also been triggered by the expectations of buyers and sellers converging.
Previously, there was little interest in problematic projects. Projects with favorable characteristics rarely came to the market and even then were available at potentially unrealistic prices.
Currently, the market is seeing interesting projects in good locations that appear to have sensible prices for both buyers and sellers, according to CBRE. Residential developers are investing in a range projects from those with valid building permits making it possible to start construction immediately and those that require a change of land use before obtaining all the necessary planning and building permissions.
CBRE Group, a Fortune 500 and S&P 500 company headquartered in Los Angeles, is the world's largest commercial real estate services and investment firm (in terms of 2013 revenue). The Company has approximately 44,000 employees and serves real estate owners, investors and occupiers through approximately 350 offices in more than 60 countries worldwide (excluding affiliates).
In the Czech Republic CBRE has nearly 350 employees. In the Czech Republic CBRE manages nearly 200 commercial premises with a total area nearly 1.2 million sqm.
Source: Praguepost