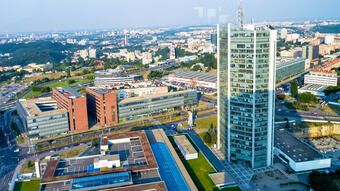 Thanks to strong activity in Q1, total investment volume for the first half of 2022 in the Czech Republic increased by 60% y-o-y and totalled €1.15 billion. The largest transaction of the quarter was Adventum's acquisition of a portfolio of commercial properties anchored by Tesco stores. The value of the part of the portfolio located in the Czech Republic reached €50-70 million. Adventum was represented by Savills in the acquisition.
Q2 transaction count surpassed the first quarter of this year (13 vs. 9 deals). With more transactions, the average transaction size in Q2 2022 recorded a decline reaching ca. €19 million, down 41% y-o-y, and 59% below the past 12-quarter average which was €45 million. After two quarters, when Prague captured the largest share of the investment volume, most of the Q2 2022 volume (69%) headed into regions. The Adventum acquisition involved 18 properties located in the Czech Republic and Hungary, but the volume of the Czech assets was large enough to bring retail to the top commercial sector in Q2. Combined with two smaller retail transactions, the total share of the sector on the quarter's volume reached 33%. The office sector ranked second, accounting for 31% of the volume in Q2 2022, with transactions involving industrial assets representing a share of 27%.
Lenka Pechová, Senior Research Analyst, Savills CZ&SK, says: "Total transaction volume in the first half of 2022 was largely led by domestic investors who acquired properties worth more than €607 million (53% of total H1 volume), followed by European buyers at 36%." Domestic buyers were involved in 11 of the 13 transactions this quarter, and, unsurprisingly, the share of domestic capital on total volume in Q2 increased to 68% (well above the previous 12-quarter average of 48%).
Investor sentiment responding to RFRRs (risk-free rates of return) is seeing prime yields starting to move out for all asset classes. From the previous quarter, prime office yield can be said to have increased nationally by 50 bps to 4.50% in Q2 2022. Industrial and residential segments still saw strong rental growth, holding the outward movement on yields to 25 bps from 4.00% to 4.25%. Yields on prime retail assets moved out by 25 bps. Recent transactional evidence remains thin, however, the best performing shopping centres in Prague are estimated at 6.00% and high street retail at 4.75%.
Vojtěch Wolf, Director, Investment Analyst at Savills CZ&SK, comments on the outlook: "Looking ahead, total investment volume in 2022 is not projected to exceed the €2 billion value and prime yields are expected to slightly further increase by year-end across all segments. The retail sector may face the biggest risk as households feel the pinch on real disposable incomes caused by inflation, which will negatively affect spending behaviour."