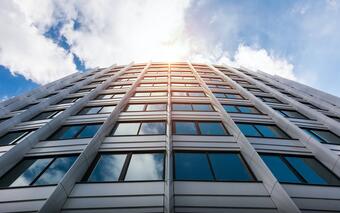 "The new certification system was created by more than 600 experts from the ranks of health professionals, virologists, but also architects, builders and other academics within the Well Building Institute. Simon Kalvod's friendly buildings.
Skanska's environmental manager Eva Nykodymová presented the new certification and its creation as part of the Green Solutions in Practice webinar, which is regularly organized by the Czech Council for Green Buildings for Architects. According to her, it is a very sophisticated system of requirements for the management and operation of buildings, which addresses the procedures of cleaning and sanitation, emergency preparedness for various crisis situations, setting up air conditioning and hot water system. The role of facility management, managing the building according to the set strict procedures and also communication with tenants is crucial.
The Czech Green Building Council also responded to the coronavirus situation by preparing a clear infographic for owners and operators of public buildings, which clearly shows how and where to put in place measures to help make the building as good as possible in terms of virus transmission. secured.
"It is necessary to address the air, touch surfaces, turnstiles, handles, elevators, kitchens, toilets, etc.," Jan Baxa, head of Asset Management CA IMMO, calculated the places where it is necessary to focus on hygiene in public buildings.
Offices with spacing between jobs
Coronavirus significantly changes the way people work in offices. There are more and more desks and more and more informal gatherings. However, with the reduction of jobs, the demands on space are growing. Jobs are being vacated and have a larger work area due to safety distances. In the run-up to the covid, the offices were arranged to ensure the need for socialization in the first place. Now, above all, safety is in the viewfinder. According to the psychologist from the participatory planning and design team of the CTU University Center for Energy Efficient Buildings (UCEEB) Igor Kytka, open spaces offering purely fixed jobs will disappear in the period after the covid. It will be necessary to have a quality background for teleconferences and an emphasis on physical offices, which ensures the experience of corporate culture and social cohesion.
According to him, the effects of the covid will probably be permanent. Businesses will not return to pre-coronavirus status. All of them, even those who have been reserved for modern forms of shared places and remote work so far, have tried home office, which does not bring benefits only to employees in the form of saved time for commuting to work. Employers also save on office space costs. According to him, a certain hybrid mode with greater flexibility of work in the office combined with a few days of a home office will be retained by most companies.
Matyáš Procházka Director, Head of Property and Asset Management from Colliers is more cautious in this regard. According to him, the home office system can be effective in the short term, but as a permanent solution, it is not fully functional. According to research conducted by Colliers International this spring, people's performance is declining. The home office places great demands on people management and makes it impossible to share corporate culture. Also, according to Nykodymová, the first estimates of experts currently speak of only a five percent decrease in the occupancy of office buildings. According to her, office tenants are gradually returning to work. They find out that the home office and remote connection using teleconferencing will not solve everything.
In connection with covid, HR managers observe a greater emphasis on the flexibility and possibilities of the home office, but also on the quality of the internal environment of office buildings on the part of job seekers. This is also reflected on the part of employers who have realized the importance of people.
"This is the People first approach, so People above all will persist," said Lenka Vokáčová Relationship Manager from ManpowerGroup.
About the Czech Green Building Council
The Czech Green Building Council (CZGBC) brings together companies and organizations in the field of green construction: from designers, architects to suppliers of materials and technologies to construction companies and developers. It wants to encourage the domestic market to transform the ways in which buildings and urban units are designed, built, renovated and operated. The aim is to create a healthy, prosperous, ecological and socially friendly environment with a higher quality of life. Since its inception in 2009, it has worked closely with a global umbrella organization, the World Green Building Council, which brings together over 90 countries. It currently has more than 80 members.
Source: // Retrend