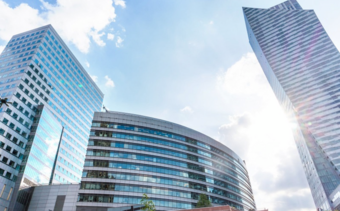 The Flex Forward report, released today, shows how markets such as Hamburg, Vienna, Moscow and St. Petersburg experienced relatively strong levels of workspace utilization during the first half of 2020, accounting for up to 30 percent of total office utilization. Despite the significant cancellation of commitments, 162,000 square meters of new flexible workspace were opened, which on average in the region received a flexible share of modern office space of less than two percent. Although the volume of expansion of flexible offices slowed down, there was a 1.6% expansion in the first half of 2020.
Over the last five years, the supply of flexible working space in the region has tripled. Although WeWork and IWG are major market players, their dominance now faces the challenge of a growing number of operators in multiple markets, with multiple locations as well as providers-owners. In the 42 markets we examine in this report, the workspace is provided by more than 1,300 operators in more than 3,300 locations.
Istvan Toth, Deputy Director and Data Analyst, EMEA Market Research at Colliers, said: "During this period, we have seen two key trends that demonstrate the industry's ability to respond to significant changes in circumstances. First, operators who are able to provide their clients with a private work environment performed the transactions in order, while those who provide a purely common co-working space had difficulty reassuring their tenants of workspace security for coronavirus protection.
"Second, we have seen a shift in demand for flexible space from the city center to inner and outer urban areas, indicating the early stages of decentralization as cities face density and disruption to commuting."
Data on office space utilization for the first half of 2020 showed an increase in demand for flexible workspace in city centers to 52 percent, compared to only 38 percent in 2018-2019. Similarly, demand for suburban areas rose to 16 percent compared to 12 percent in previous years.
Kevin Turpin, Regional Director of Market Research for Central and Eastern Europe, said: "The modern, flexible office market in Prague has grown over the last few years, with traditional serviced offices on the market for much longer. In total, there is approximately 77,000 square meters of flexible space on the market, which corresponds to 2.1% of the total. Another 12,000 m2 of space will be added in the next 6 months. Most of this space is in relatively central locations and we expect it to remain so in the near future.
The main reason is that Prague's public transport system is quite efficient and the city is not as large as some cities in Western Europe. Currently, there are strict rules for wearing face masks in public transport, and most people seem to respect that. According to the latest Google report on mobility in Prague's public transport (transit hubs), utilization has decreased by approximately 20% compared to January and February this year. As a result, some commuters in Prague prefer their cars, which causes further traffic problems. "
Petr Žalský, Director of the Office Department for the Czech Republic, said: "Many larger companies are considering flexible workspace and teleworking as a complement to their core office. Another use is popular for smaller companies, whether in the growth phase or simply for a quick and convenient solution. More detailed information on the EMEA market and valuable information for tenants and landlords can be found in the Colliers Flex Forward Report. "
The Flex Forward report also examined the different options for tenants and landlords who want to use flexible workspace within their portfolios and outlined the different options available.
Source: // Retrend