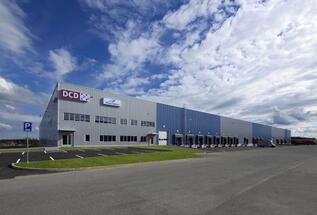 New industrial units in Central Europe are being developed at twice the rate of last year. More than 500,000 square meters of units were built (last year: 260,000 sqm) and almost 2 million sqm of industrial property was leased in H1 2014. As a result, the vacancy rate has dropped on average below 10 percent, according to Cushman & Wakefield's CE Industrial team.
"The take-up of new space is so high that almost all stock is leased before the actual development starts. As a result, speculative development is almost non-existent today. This trend is seen mostly in Poland and in the Czech Republic. Take-up is driven primarily by the automotive industry, but the role of online retailers is gaining in importance," says Ferdinand Hlobil, head of Cushman & Wakefield's CE Industrial team.
"Poland's industrial market is outperforming its neighbors in the CEE region both in regards to new developments and take up levels. Given the amount of warehouse space currently under construction, this year's supply is expected to be the highest in the last five years. Take-up rose in H1 2014 by 20 percent compared with H1 2013 and leasing volume is expected to remain high throughout the rest of the year. It is important to note that small-medium sized cities in Poland, close to large conurbations are also generating interest from developers who plan to expand their development footprints," says Tom Listowski, Partner, head of Industrial in Poland & CEE Corporate Relations at Cushman & Wakefield.
For the rest of the year, experts at Cushman & Wakefield expect the industrial property market to grow at the same rate as it has to date. "Poland has been the leader of the development market in the last ten years and will remain so, not just in Central European terms but on a European scale as well. This is primarily thanks to its constantly growing economy and the proactive approach of the country's government. The Czech market will remain strong, but there is still room for improvement in terms of a more transparent and helpful approach on the part of politicians regarding international investors. A shortage of land prepared for industrial development appears to be a barrier for the future," Mr Hlobil says.
The Hungarian and Romanian markets are slowly beginning to experience a revival that goes hand-in-hand with the positive development across the Central European region and Europe as a whole. Hungary in particular after a long period has squeezed vacancy rates below 20 percent, and a further improvement would be a clear signal for new mid-term development investments.
Slovakia is driven primarily by the Bratislava region and several major investments such as VW. A greater degree of investment and project diversity in Eastern Slovakia would certainly benefit the entire country.
"The political developments in Ukraine represent a threat for the Central European market. If the conflict escalates still further, we can expect increased prudency on the part of investors. This may gradually cause them to 'tighten the taps', with developers being cut off from a part of their financial resources. Also, companies are likely to cut down on their manufacturing expansion into Ukraine," Hlobil adds.
Cushman & Wakefield advises and represents clients on all aspects of property occupancy and investment. Founded in 1917, it has 250 offices in 60 countries, employing more than 16,000 professionals.
The firm entered the Czech market in 1993 and employs 128 people in its Prague and Bratislava offices.
Source: Praguepost.com