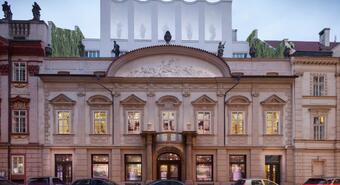 Špork Palace, which has 10,000 m2, is located right in the center of Prague near the Powder Tower and the Municipal House. It connects Hybernska and V Celnici streets. His tenants include Dentons and the popular Asian restaurant SIA. It has almost full occupancy.
The building has a unique architectural design. It combines original historical features with modern contemporary design. At the beginning of the twentieth century, only the façade was preserved from the original Baroque palace after the construction work . Its main building was designed by the prominent Czech architect Josef Gočár. The development company SEBRE, as has reconstructed it into its current form
Generali Real Estate is one of the world's leading asset managers, managing around € 30 billion in real estate around the world by the end of 2018. The company builds on the expertise of more than 450 experts and has branches in major European cities in four macro-regions (Southern Europe, Western Europe, Central / Northern Europe and Central and Eastern Europe). The company applies an integrated business model and provides comprehensive asset management services.
Source / photo: www.retrend.cz / Cushman & Wakefield, sro