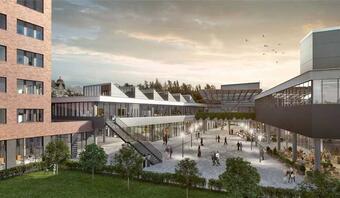 The retail space in the Nová Palmovka mixed-use center, which will also include the official Prague 8 Town Hall premises, has been pre-leased a year and a half prior to the opening.
The shell is being erected at present and the opening for the general public is scheduled for the first quarter of 2016. The Prague 8 Municipal District is the investor of the project, Metrostav Development is the developer and Cushman & Wakefield is in charge of lease.
"The project is atypical in that it combines several functionalities: as a primary purpose, it brings together all Prague 8 municipal authorities at a single address. In addition, it will offer a broad range of stores and service units as part of civic amenities. 99 percent of the retail part has been leased as of today, more than one year prior to opening. This situation is exceptional among newly built shopping centers," says Michal Přib of Cushman & Wakefield.
"Moving in from Smichov, the model railway exhibit known as Království železnic (Railway Kingdom) is the biggest occupier. We believe that in cooperation with Cushman & Wakefield we have found the ideal tenant mix. Nová Palmovka wants to profile itself primarily as a local hub and a place for people to meet. Another anchor tenant is a Lidl supermarket," says , commercial director of Metrostav Development.
The new shopping and office complex will have a total area in excess of 24,000 sqm, including a shopping mall of more than 6,000 sq m that will offer further stores such as the Rossmann chemist, a Potrefena Husa restaurant, a stationer's, a bookstore and a wide array of service outlets ranging from a bank to a hairdresser.
The project will also offer 7,500 sqm of class A office space, the pre-lease of which is just launching. The new town hall building for the Prague 8 Municipal District will take up about 12,000 sqm.
Cushman & Wakefield advises and represents clients on all aspects of property occupancy and investment. Founded in 1917, it has 250 offices in 60 countries, employing more than 16,000 professionals.
The firm entered the Czech market in 1993 and employs 128 people in its Prague and Bratislava offices.
Source: Prague post