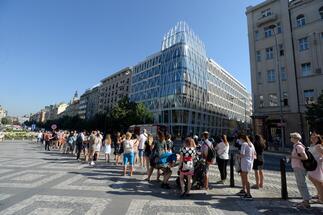 "The arrival of new brands in the Czech Republic showed an upward trend last year: in the 1st quarter there were three new brands, in the 2nd quarter seven, in the 3rd quarter eight and in the last quarter already eleven," comments Jan Janáček, team leader CBRE, and adds: "Most of the newcomers have headed to Prague, which is a traditionally sought-after tourist destination and also has a high purchasing power of the population with the potential for further growth. There were a total of 23 of them, mainly in the field of fashion. However, two brands chose Brno to enter the Czech market: the Heavy Tools fashion clothing store from Hungary opted for the Vaňkovka Gallery, and the Austrian micro-drink brand Waterdrop chose the pedestrian zone in Rašínova Street. The brands also went one by one to Karlovy Vary (Mr Jeff's laundry from Spain), Olomouc (Slovak cinema operator Cinemax) and Příbram (Mere supermarket discount chain originating from Russia). "
All new brands come from Europe
Most brands came to us from neighboring countries last year. Whether it is two German clothing chains specializing exclusively in men's fashion Anson´s and Hiltl, Fielmann optics or the Clever fit fitness center. Four brands have also been added from Poland: fashion, footwear and accessories store from eobuv.cz/Modivo, the HalfPrice chain from the CCC group offering branded fashion and household equipment at discounted prices, the Leopark children's entertainment corner and the Dobro & café network Good Cafe. Brands originating from Slovakia were also active - Dedoles with an assortment of mostly socks, underwear and other accessories, the CUBE store with a selection of handbags and footwear from world designers such as Vivienne Westwood, Marc Jacobs, Michael Kors or Furla and the already mentioned Cinemax network. However, French brandy such as MOA Paris with fashion accessories, the multi-brand Vermont Store with premium products from Karl Lagerfeld, Manuel Ritz or Gant and the network of luxury confectioneries Aux Merveilleux de Fred did not lag behind. It was the first in Central Europe to open its office in Revoluční Street only in December. In general, all the brands that came to the domestic market last year come from the old continent. An exception is the Canadian brand Aldo with shoes and handbags, which returned to the Czech Republic last year after a short break.
Fashion dominated, followed by gastronomy
Last year, CBRE recorded the entry of a number of new international brands, which confirms the long-term reputation of the Czech market as a suitable destination for further expansion of foreign companies in the region of Central and Eastern Europe. Most brands have traditionally come from the fashion industry - a total of 15. Specifically, seven were retailers of clothing and accessories. In addition to the Irish fashion chain Primark, which opened a three-storey department store on Wenceslas Square 47, there were the aforementioned HalfPrice, Dedoles, Falconeri and Heavy Tools, as well as two men's clothing specialists (Hiltl and Anson's). To them can be added shops with accessories Moa Paris and Victorinox, footwear (Aldo, eobuv.cz/Modivo) and luxury goods (Versace, multi-brand stores CUBE and Vermont Store and the Swiss watch brand Tudor). Six new brands represented gastronomy (for example, sweets and ice creams Motiko or My Cookie Dough). The offer of leisure concepts has been expanded by, among others, the largest indoor amusement park Majaland in the POP Airport outlet center in Prague. Household equipment can also be purchased in Cozy Home or Dyson stores.
Last but not least, the number of brands leaving the Czech market decreased year-on-year last year: the American decorative cosmetics brand NYX, the Polish footwear brand Kazar and the Italian store Bruno Morelli & Brands from the Freeport Fashion Outlet near Znojmo, among others, left.
"Given the very difficult period that not only retail is going through, it is a positive finding that the Czech market remains attractive for many foreign brands. At the same time, we are also seeing a brisk expansion in Czech brands. These are often digital projects that expand their online trading platform with brick-and-mortar stores. However, we are far from talking about the end of the covid period, and none of us is able to oversee the consequences that this time will bring to retail. However, the outlook for next year is relatively promising, whether we are talking about the long-awaited opening of boutiques of luxury fashion brands Chanel and Balenciaga in Prague's Pařížská Street or the announced major expansion of the new Czech coffee chain Basics Coffee, which CBRE exclusively represents, "concludes Jan Janáček.