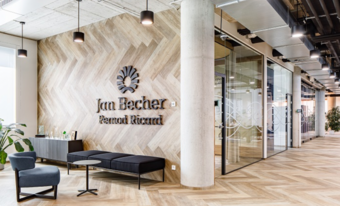 The employees of Becherovka, which is part of the Pernod Ricard Group, one of the two largest producers of spirits and wines in the world, longed for more distinctive and representative offices with seemingly interesting elements.
"In this respect, the cooperation with the brand managers of the individual brands that the company represents and distributes on the Czech market was decisive. They helped us complete the design. In the meeting rooms, employees and visitors encounter a color concept typical of brands such as Becherovka, Jameson, Beefeater or Havana Club," describes the architect Jakub Seči from CAPEXUS, which designed and implemented the space for Becherovka in the form of design & build. where design, realization and delivery of turnkey interior falls under one partner.
The offices are primarily equipped with furniture of domestic brands - Becherovka places great emphasis on its Czech roots, although it is exported worldwide. For example, the iconic TON chairs made of solid bent wood can be found here. CAPEXUS also supplied all atypical furniture, such as a wooden reception desk in a bar style or a bar consisting of a single solitary piece with a wooden board and integrated ambient lighting.
"At the new address in the Stromovka Center, we thought mainly about the comfort and satisfaction of our employees. Mobile walls, thanks to which the space can be divided in different ways, and coworking zones support a dynamic working environment. A simple space underlines our DNA, history and what we do today," says Lenka Zavadilová, Back Office manager at Jan Becher Pernod Ricard.
The illuminated spaces are dominated by industrial elements. "We mainly used exposed concrete and left the ceiling open so that all technologies remained on display," says Seči. The exposed materials in combination with wooden equipment, glass partitions and colorful details create a pleasant atmosphere for work, business meetings in conference rooms or relaxation.
"The dominant feature of the offices is the thematically designed bar zone with a six-meter bar, which is a place for various meetings and corporate events," adds Zavadilová.
Source/photo: CAPEXUS s.r.o.