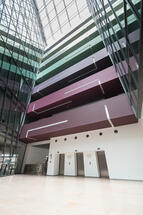 The ALPHA office building, with eight storeys and four underground levels from the pens of the architectural studio Aulík Fišer architekti, was completed in the year 2003, with Hochtief acting as the general contractor. After PASSERINVEST GROUP bought the building back from INVESCO Real Estate in October 2014, it began the revitalisation of the building, including the modernisation of the interior and exterior spaces of the building.
"So far we have bought back two BB Centrum buildings, the just revitalised ALPHA Building and the BETA Building, in which similar modifications are planned to ensure the high standard of our office spaces," commented Chairman of the Board of PASSERINVEST GROUP Radim Passer with regard to the company's strategy, adding: "There are negotiations currently underway for the further repurchasing of buildings, since our company's efforts, in a long-term perspective, is to make BB Centrum a unique and unparalleled multifunctional complex with the potential to be an interesting project for investors, as well."
The entrance lobby has primarily undergone a significant change. Its centre has become a representative reception with a new orientation system. The floors and walls have been completely renovated and the new rendition of the space is supplemented by interesting furniture and four plasma TVs forming a single large screen. The facade in the non-traditional glass atrium was lowered down to the ground in the untraditional glass atrium with a negative vertical angle across all the floors and a pleasant coffee corner was built in the resulting "nook". The canteen, hallways, stairwells and new rooftop garden with an abundance of plants have undergone further transformations. The building has a total of 230 parking spots in underground garages, which have also undergone demanding renovations.
There is currently 8100 m2 of the total 12,300 m2 of office space leased out and the important tenants include Huawei, DKV and ČEZ in addition to XEROX and GORENJE, which moved into the building at the end of January 2016.